Body
[Plant-Forward Future] Diets that embrace plant-based proteins are trending for both health and environmental reasons. One in four consumers is eating less meat and roughly half of younger consumers and one-third of older people already regularly choose plant-based foods instead of meat. In the National Restaurant Association's 2020 "What's Hot" survey, plant-based proteins landed at number 2 in its top ten list, and according to the association's forecast in the Restaurant Industry 2030 report, it is expected that plant-based proteins will continue to grow in popularity over the next decade. 
With 44% of consumers trying to increase their intake of plant-based proteins like beans and nuts, and nearly eight in 10 millennials eating meat alternatives, health care facilities can increase food sales and attract and retain talent by taking a plant-forward approach to food service. 
Plant-forward menus can help a health care facility significantly advance its climate, environmental, and food security goals.
Goal
Setting a goal and tracking progress is key to advancing toward a plant-forward future. These goals will help prepare Practice Greenhealth members use the Environmental Excellence Awards application to track their meat reduction progress. 
| | | | |
| --- | --- | --- | --- |
| LEVEL | GOAL | MEASURE | CALCULATION DETAILS |
| Getting started | Reduce meat. | Total pounds of meat (not including seafood) purchased per year. | Measure from an existing baseline or a new baseline for those just getting started. |
| Intermediate | Reduce meat. | Total pounds of meat (not including seafood) broken down by categories. | Categories include pounds of beef, lamb pork, poultry purchased per year. |
| Advanced | Join the Cool Food Pledge and reduce your GHG impact from food purchasing by 25% by 2030. | Greenhouse gas emissions. | Track animal proteins including meat, dairy and seafood. Track plant proteins including legumes and pulses, nuts and seeds, grains and plant-based milk substitutes. |
Get specific
Practice Greenhealth recommends attaching a specific number to your plant-forward goals to help measure progress and achieve your desired outcome. Consider the following:
Annual meat reduction. Reduce meat purchases annually by a certain percentage, for example, 10% per year.  And/or reduce meat annually with the goal of 1.5 ounces of meat per meal served.
Greenhouse Gas Emissions. Reduce emissions from food purchasing by 20% by 2030 and track emissions using the Cool Food calculator. Or join the Cool Food Pledge and we will track your emissions for you. The pledge is available to Practice Greenhealth members as a member benefit and non member health care facilities receive discounted pricing over the $5,000 annual fee.
Plant-forward increase. Aim for an annual increase in plant-forward menu options by category or for the entire food service. For example, 70% of all entrees will be plant-forward by 2030.
Once you have your goal, put a plan in place using Plant-Forward Future implementation resources or join the Cool Food Pledge and we will help you put a custom plan together.
Steps
Step 1: Set a goal
Choose a meat reduction or plant-forward goal that is right for your facility and that will allow you to make steady progress year over year.  Or join the Cool Food Pledge, which is free to Practice Greenhealth members, and we will work with you on setting an overall goal and a plan for achieving it. 
Step 2: Plan your menu
Utilize the Plant-Forward Future menu planning resources from our partners. These include institutional scale recipes, innovative salad bar ideas, catering tips, and a full week's plant-forward menu plan developed by Oldways, a food and nutrition nonprofit.
Step 3: Market your dishes with "smart marketing"
You are ready with delicious plant-forward dishes but will your customers buy them? The answer is "yes" if they are marketed correctly. How do you describe plant-forward dishes to customers? What do you call them? Should they go in a separate section on the menu? All these questions are answered in the World Resources Institute's Behavioral Playbook. You'll also find a new menu marketing tool that will help you name and describe dishes so they sell. Finally, in our plant-foward resources, you will find infographics, posters, and screen images to extoll the benefits of plant-forward and help you communicate your impact to your community.
Step 4: Track your progress
Tracking your progress is essential for making gains in a plant-forward culinary program. Your member engagement specialist can work with you to develop a tracking system. Track your meat by category using this spreadsheet which will help you prepare to submit your data for the annual Practice Greenhealth awards program. Or track all animal and plant proteins using the Cool Food tracking sheet which will help you more accurately evaluate your climate impact from food purchasing. Join the Cool Food Pledge and we will calculate your impact for you.
Step 5: Get recognition
Are you making good progress towards a Plant-Forward Future? What strategies are you using to meet your goal?  Is there a plant-forward dish or concept that has really taken off? We want to hear from you and share your story. Or show off your skills by submitting an entry to our annual Health Care Culinary Contest. Be sure to apply for our annual Practice Greenhealth awards in the food category. Your work in the plant-forward space can help you win an award and be recognized among your health care peers.  Do you want to stand out as a leader globally among all sectors? Join the Cool Food Pledge for global, cross-sector recognition.
Practice Greenhealth members are plant-forward leaders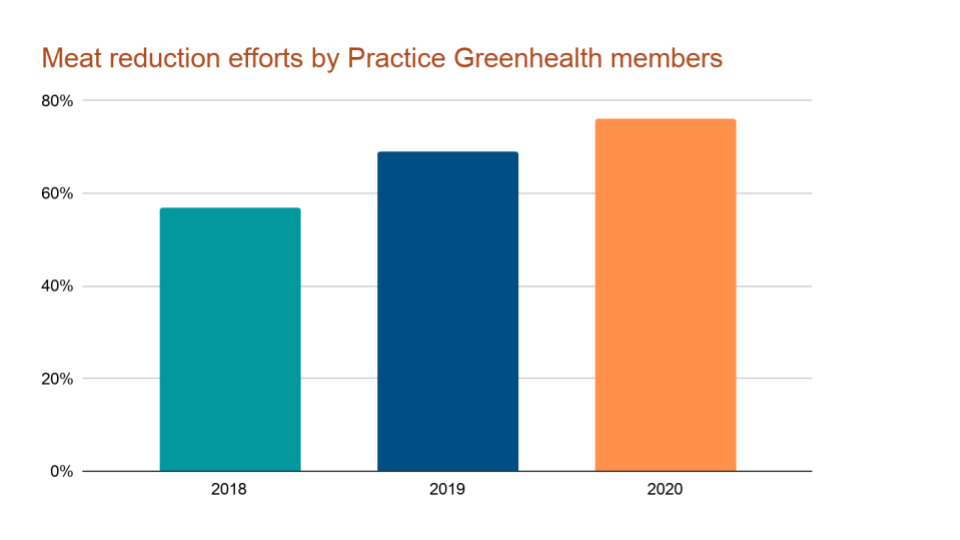 Looking ahead
Plant-forward is the most delicious "quadruple" bottom line approach that health care can take –  achieving social, environmental, and financial goals while providing great tasting food. Our Plant-Forward Future resources have everything you need to move forward, and Practice Greenhealth is here to assist you. You can set your own path by utilizing the resources or join the Cool Food Pledge for enhanced individualized support. 
The future has never been more delicious. Join us in going plant-forward. ​