Body
Health care organizations nationwide are offering healthier menus, working with farmers to purchase locally and sustainably grown products, reducing the amount of meat they purchase and serve, and going beyond their walls to help meet the food needs of their community, all in an effort to achieve major goals for both the facility and the surrounding community such as:
Improving the nutritional value of food available to patients, employees, and visitors that will also improve their overall health.
Increasing access to healthy food options for the community, as a lack of secure food sources can be a major factor affecting physical health and emotional well-being.
Building an environmentally sustainable food system for the long-term benefits of the communities they serve.
Hospital food is more than meals served in the cafeteria and on patient trays. It represents an integral part of health care's ability to improve the health of patients, staff, and the surrounding community.
Community leaders, hospitals, and health care providers have a unique opportunity to develop programs that aim to reverse negative food- and health-related trends by:
Modeling healthier, more sustainable food choices for patients, employees, and visitors while also saving money by reducing food waste and stewarding natural resources.
Maximizing hospital purchasing power to increase the availability of local, sustainable foods within the hospital and by extension, in the community.
Leveraging programming and investments to address social and environmental determinants of health by increasing healthy food access for patients, staff and visitors while also building healthy, sustainable and equitable food systems for their communities.
Practice Greenhealth has developed tools and resources to help our members plan, create, and implement healthier food programs that can be tailored to meet the goals of any hospital organization.
---
The future never looked more delicious
Ready for trendy, mouthwatering meals that are healthy for people and the planet? The Plant-Forward Future is here. Check out our new resources for chefs and food service pros, including our fun, new employee engagement activity, Plant Powered 30. 
---
The Cool Food Pledge
The Cool Food Pledge is a new platform to help hospitals offer diners more of what they want while slashing food-related greenhouse gas emissions, saving costs, and improving health.
---
Health Care Culinary Contest 
Showcase your talent to reimagine hospital food. Join the community of hospital chefs and food service professionals who are reinventing hospital food. Submit your best plant-forward recipe that celebrates flavorful food traditions while using creative and everyday culinary techniques.
---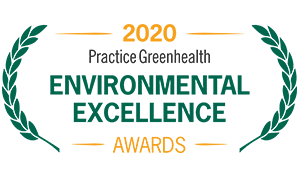 The Environmental Excellence Awards are the nation's premier recognition program for environmental performance in the health care sector. The Circle of Excellence Awards celebrate hospitals who have not only earned an award for all around sustainability achievement, but who have also been identified as the top scoring programs for each category of sustainability.
The Food Circle highlights leaders in sustainable food services, capturing leadership in meat reduction, procurement of better meat, local and sustainable sourcing, improving access to tap water and healthy beverages, supporting healthy food access, and preventing food waste. Top contenders have demonstrated noteworthy programming in each area, and have an educational strategy that addresses the food system as a critical component in an overall sustainability plan — for human and planetary health.
Honorees
Atlantic Health System - Overlook Medical Center*
Hackensack Meridian Hackensack University Medical Center*
Hackensack Meridian Raritan Bay Medical Center - Old Bridge
Hudson Hospital & Clinic*
Memorial Sloan Kettering Cancer Center*
Regions Hospital*
Seattle Children's*
The University of Vermont Medical Center*
UC Davis Health
University of Vermont Medical Center Fanny Allen Campus
*also a Top 25 honoree