Awards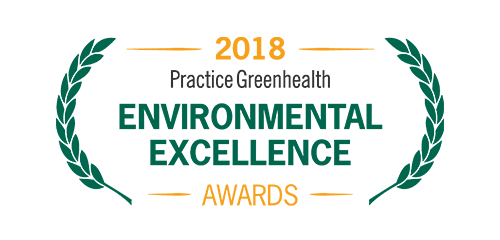 The 2018 Environmental Excellence Awards are now open.
Completed Award applications are due March 7th at 5:00 p.m. Pacific time.

---
To help get started with your Awards application, we conducted a series of webinars which are available for viewing on Greenhealth Academy.
What's New on the 2018 Environmental Excellence Awards
Recorded November 8, 2017
Practice Greenhealth recognized its members with 602 Environmental Excellence Awards in 2017 and there's no doubt that number will increase in 2018. If your institution is a repeat applicant for the Environmental Excellence Awards, come and learn about "what's new" on the 2018 award applications. This session will highlight new content and the timeline for the 2018 awards season.
View the recording and learn more.
---
Introducing the 2018 Practice Greenhealth Environmental Excellence Awards — for First-time Applicants
Recorded November 2, 2017
Practice Greenhealth's Environmental Excellence Awards are the premier source of recognition for hospital achievement in environmental performance. Come and learn how your organization can benefit from participating in the Environmental Excellence Awards process. From earning sector-wide recognition for your organization's sustainability programs to gaining a better understanding of how you compare to peer hospitals, or identifying key areas of opportunity—the Environmental Excellence Awards can benefit your organization, no matter where you are in your sustainability journey.
View the recording and learn more.
---
For questions on the Environmental Excellence Awards or improving your sustainability program please contact your member engagement liaison.
For general award inquiries or technical assistance, please contact Christopher Bodkin at awards@practicegreenhealth.org or 888-378-2259.
*If you are a member of the Veteran's Health Administration, please contact Kaeleigh Sheehan at ksheehan@practicegreenhealth.org or 888-450-7707 for support.