Awards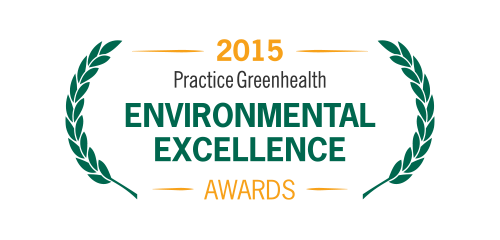 2015 Environmental Excellence Award announcements were sent via email to the primary award applicant (identified in the business unit) the afternoon of March 31, 2015.
If you did not get notification please email awards@practicegreenhealth.org.
A hard copy letter was also sent to the senior leadership representative identified in the business unit.
Practice Greenhealth would like to thank all of the award applicants for the time and effort that went into the application process and the achievements withing those award applications. Applicants may view their completed read-only applications at https://awards.practicegreenhealth.org.
The 2014 Sustainability Benchmark Report
is available to members on the awards page, after logging onto this website.
Please visit http://cleanmed.org and join us at
CleanMed in Portland, Oregon
May 12-15, 2015.
For questions on the Environmental Excellence Awards or improving your sustainability program please contact your facility engagement liaison:
Facility Engagement Liaison Contact List
---
It was wonderful to see so many of our Award winners at CleanMed 2014 and to celebrate your outstanding achievements at the Awards Gala. Congratulations to the 2014 Practice Greenhealth Environmental Excellence Award winners.
List of all 2014 Award Winners
Environmental Excellence Award Winner Portraits
For general award inquiries or technical assistance, please call 888-378-2259 or email: awards@practicegreenhealth.org.