Awards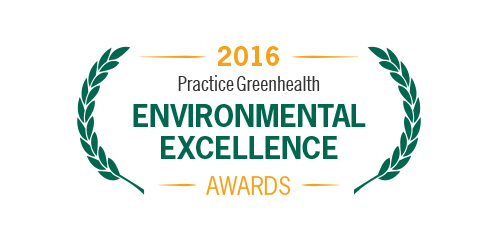 Take Pride in Your Commitment to Sustainability
Hospitals, business suppliers to health care and others in the sector—especially Practice Greenhealth members—are dedicated to providing safer, healthier work environments and exemplify a pride found among those who value the well-being of their patients, employees, and the environment within the communities they serve. The Environmental Excellence Awards Program recognizes the commitment of Practice Greenhealth members who reduce their facilities' environmental footprint as they continue to improve their quality of patient care.
The 2016 Environmental Excellence Award Applications are now available.

Be recognized by the leading sustainability organization in health care and gain national attention and exposure for improving your environmental performance. When you proudly display your Environmental Excellence Award, you:
Showcase to your community that you care about their health and environment.
Stand out among your peers as an established award winner.
Further your sustainability efforts in-house by increasing awareness and credibility of your green team and programs.
Garner further support from your administration with national recognitions of your sustainability programs.
Honor your commitment to excellence—enter the Practice Greenhealth Environmental Excellence Awards and show that you are a shining example of sustainability.
For questions on the Environmental Excellence Awards or improving your sustainability program please contact your Awards liaison.
For general award inquiries or technical assistance, please call the Awards Hotline at 888-378-2259 or email: awards@practicegreenhealth.org.