Engaged Leadership
Engage executive and clinical champions.
Body
The first environmental health or sustainability champion at a hospital can come from anywhere within the facility. But leadership's commitment to sustainability programs plays a large role in the success of these efforts. Almost 90 percent of the top-performing institutions in our sustainability benchmark reports have an executive-level champion at the top of the reporting structure. 
While securing leadership's buy-in can be a challenge, it is achievable. Many hospitals have found success and the whole-hearted support of their leaders by aligning sustainability initiatives with their organization's existing business processes and procedures from the beginning, including:   
Identifying current successes to demonstrate passion and return on investment in sustainability programming
Building sustainability projects that have a clear business case behind them
Choosing projects that fit within the strategic priorities of the organization
Establishing organizational commitments to sustainability goals in writing 
Identifying executive and clinical champions and creating a reporting structure with accountability resting at the executive level
 "We need to act not just as physicians but as members of a sector that has its own, not insignificant, carbon footprint that can be managed down with benefits for public health and the sector's bottom line."
–  Dr. Jeff Thompson, Gunderson Health System executive advisor and CEO emeritus 
Our Engaged Leadership Challenge is helpful for those looking to connect with their leadership, taking users step-by-step through the process, with the goal of establishing a formal commitment to sustainability programs.  
Setting clear goals and performance indicators, measuring impacts, and then reporting results helps everyone on the team, no matter their role, understand what works and what doesn't, and when it is time to look at expansions or alternative approaches. 
Practice Greenhealth has two decades of experience working with hospitals and health systems. Together we implement sustainability programs rooted in the business process. Based on member needs, we develop tools that help organizations navigate any and every stage of sustainability program planning, especially the challenges of securing stakeholder and leadership engagement. 
---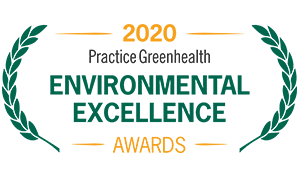 The Environmental Excellence Awards are the nation's premier recognition program for environmental performance in the health care sector. The Circle of Excellence Awards celebrate hospitals who have not only earned an award for all around sustainability achievement, but who have also been identified as the top scoring programs for each category of sustainability.
The Leadership Circle represents high-performing hospitals that have a strong infrastructure supporting a long-term commitment to healthier environments through leadership vision, committee structure, reporting, data tracking, communication and education. 
Honorees
Advocate Good Shepherd Hospital
Hackensack Meridian Hackensack University Medical Center*
Hudson Hospital & Clinic*
Lakeview Hospital*
Park Nicollet Methodist Hospital*
Regions Hospital*
VHA 04 James E. VanZandt VA Medical Center (Altoona, PA)*
VHA 07 Ralph H. Johnson VA Medical Center (Charleston, SC)*
VHA 08 VA Caribbean Healthcare System (San Juan, PR)*
VHA 12 Clement J. Zablocki VA Medical Center (Milwaukee, WI)*
*also a Top 25 honoree
Join Practice Greenhealth
Practice Greenhealth is the health care sector's go-to source for information, tools, data, resources, and expert technical support on sustainability initiatives that help hospitals and health systems meet their health, financial, and community goals.