Body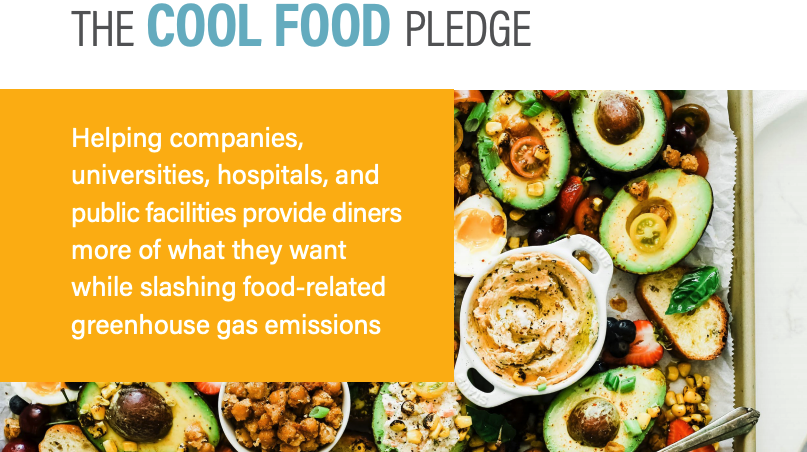 Across the country, clinicians and medical associations are extolling the health benefits of plant-centered eating, and hospitals are responding by reducing meat and increasing plant-centered menu options. 
More than 39% of Americans are looking to incorporate more plant-based foods into their diets, and 58% of younger consumers (ages 18-34) are already eating plant-based proteins.
Increasing plants and reducing meat in the diet can have a variety of health benefits, lowering the risk for diet-related disease and associated health care costs.
Plant-centered eating also benefits the environment. Plant-based proteins require less water and land to produce, and they have a significantly lower carbon footprint. If all Americans forgo meat for one day per week this would result in the same carbon savings as taking 19.2 million cars off the road for a year. 
The Cool Food Pledge is an opportunity for health care facilities to reduce their food-related greenhouse gas emissions and tie their health-promoting, plant-centered meal efforts to climate change.  
Championed by the World Resource Institute, the pledge is a cross-sector, international effort to achieve a science-based collective target of reducing emissions from food by 25% by 2030.  
Participating hospitals receive technical assistance and support from Health Care Without Harm and Practice Greenhealth.
 Join other hospitals on the path to serving cool foods in 3 easy steps:
Commit to a science-based pledge for tracking and reducing diet-related GHG emissions
 Develop a compelling and innovative plan to bring about change
 Promote your success
For health care facilities that are increasing plant-centered menu options to respond to customer demands and dietary guidelines, tying your actions to reduced climate impact can elevate your work and elicit the recognition you deserve.

For health care facilities implementing climate strategies, addressing the impact of your food service operation is an opportunity to take your efforts to the next level.  
The Cool Food Pledge is a tool that will help you increase delicious plant-centered offerings that will appeal to wide audiences, track your impact, and celebrate your successes.
Join Practice Greenhealth
Practice Greenhealth is the health care sector's go-to source for information, tools, data, resources, and expert technical support on sustainability initiatives that help hospitals and health systems meet their health, financial, and community goals.