Waste
Understand hospital waste streams, how to measure them, and how to reduce waste at your facility.
Body
Waste is a common challenge for health care organizations, no matter their size. Waste is complex and expensive to manage. Hospitals produce more than 5 million tons of waste each year.
Hospitals generate over 29 pounds of waste per bed per day. A waste plan is critical for any sustainability programming.
Every hospital is challenged by the complexity of health care waste and limited recycling and management options. Recycling isn't enough. Member hospitals who look upstream by studying incoming material and then reduce both inputs and outputs together see greater reductions in total waste costs.
 
Practice Greenhealth has developed many tools and resources that inspire and guide our member health care organizations to set baselines, identify goals, and implement strategies like more efficient sorting, waste prevention, robust recycling, single-use device reprocessing, composting, and other approaches to reduce the costs and environmental impacts of health care-generated waste.
 
Understand the waste streams, how to measure them, and how to reduce waste with our Less Waste how-to guide.
---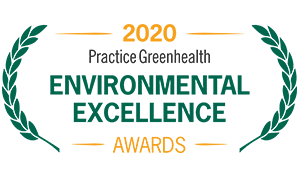 The Environmental Excellence Awards are the nation's premier recognition program for environmental performance in the health care sector. The Circle of Excellence Awards celebrate hospitals who have not only earned an award for all around sustainability achievement, but who have also been identified as the top scoring programs for each category of sustainability.
The Less Waste Circle honorees have excelled in waste prevention and material handling, demonstrated through high recycling rates, low regulated medical waste generation and a focus on minimizing the total volume of waste generated by the facility. These mature programs address all facets of the complex health care waste stream.
Honorees
Gundersen Lutheran Medical Center
Harborview Medical Center*
Hudson Hospital & Clinic*
Memorial Sloan Kettering Cancer Center*
Park Nicollet Methodist Hospital*
Providence St. Patrick Hospital
Regions Hospital*
The University of Vermont Medical Center*
VHA 12 Clement J. Zablocki VA Medical Center (Milwaukee, WI)*
VHA 23 Minneapolis VA Health Care System (Minneapolis, MN)*
*also a Top 25 honoree
Join Practice Greenhealth
Practice Greenhealth is the health care sector's go-to source for information, tools, data, resources, and expert technical support on sustainability initiatives that help hospitals and health systems meet their health, financial, and community goals.