Body
Hospitals are environments for healing but many of the products and materials that come into a hospital may be harmful to patients, staff and those in the community. Some products used in health care may contain or release (during production, use or disposal) carcinogens, reproductive toxins, or other hazardous materials. Many of the chemicals used in products have not been adequately tested for toxicity. Additionally, there are a growing number of disposable products in health care and large amounts of packaging creating significant waste, and a variety of products that are energy or water-intensive or require special handling or hazardous waste disposal at the end of life. Sustainability professionals and purchasing managers should work together to embed sustainability into purchasing processes and engage suppliers and group purchasing organizations to provide innovative, sustainable products and services with a reduced impact on human health and the environment. What we buy matters. Sustainable procurement of goods and services can also:
Reduce exposure for patients and employees to hazardous substances, such as cleaners, by seeking out environmentally preferable alternatives.
Address important social issues such as fair trade.
Allow hospitals to serve as responsible stewards of their communities by cutting down their own environmental impacts and encouraging suppliers to do the same.
Identify the true, often hidden, long-term costs of equipment and services by factoring in the total cost of ownership rather than looking simply at the purchase price.
Since 2012, Virginia Mason has reduced purchasing costs by more than $3 million and reduced annual waste disposal costs through single-use device reprocessing by an approved and responsible vendor.
To get started, sustainability champions and hospital purchasing managers need to adopt sustainable procurement policies and procedures to embed sustainability into the sourcing process. They need to prioritize products and services to target that align with organizational sustainability goals and utilize our procurement resources to quickly and effectively gauge which are sustainable products, ensuring that they incorporate sustainability factors into contract decision-making to support good patient health. 
Practice Greenhealth has more than two decades' experience identifying the criteria that determine which products and equipment live up to their "green" promises. We know how to bring sustainable products and purchasing practice to a hospital without hurting the bottom line or taking time away from patient care.
---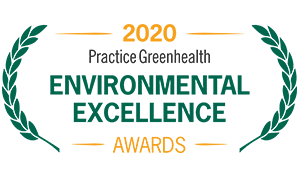 The Environmental Excellence Awards are the nation's premier recognition program for environmental performance in the health care sector. The Circle of Excellence Awards celebrate hospitals who have not only earned an award for all around sustainability achievement, but who have also been identified as the top scoring programs for each category of sustainability.
The EPP Circle celebrates the best in environmentally preferable purchasing (EPP) programs. Facilities were evaluated on their supporting policies, interactions with GPOs and suppliers, environmentally preferable contracts and use of environmental attributes in RFPs and business reviews.
Honorees
Advocate Aurora Health
Cleveland Clinic*
Hackensack Meridian Health
Harborview Medical Center*
HealthPartners
Kaiser San Jose Medical Center
Memorial Sloan Kettering Cancer Center*
VHA 10 Aleda E. Lutz VA Medical Center (Saginaw, MI)
VHA 12 Clement J. Zablocki VA Medical Center (Milwaukee, WI)*
VHA 23 St. Cloud VA Health Care System (St. Cloud, MN)*
*also a Top 25 honoree