Body
More than one-third of the food produced in the United States is never eaten, and food is the most common material type in the landfill.

Address climate change
Wasted food accounts for ≈ 8% of global greenhouse gas emissions.

Reduce food insecurity
1 in 6 people in the U.S. experience food insecurity.

Save money
$218 billion is spent on food that is never eaten.
Hospitals are in a unique position to reduce their climate impact and address food insecurity in their service areas. The U.S. health care sector is responsible for nearly 10% of the country's greenhouse gas emissions, and hospitals generate one-third of those emissions.
Business case
Hospitals generate over 30 pounds of waste per bed per day. It is estimated that 10%-15% of the waste an average hospital creates is food waste – that's about 288,401 tons of food waste generated per year from hospitals.
Reducing food waste has the potential to save facilities money. On average, hospitals spend $0.06 to $0.10 per pound for waste removal. This would cost $7,800 for a typical 200-bed community hospital generating 65 tons of food waste annually. 
LeanPath, a business that helps food service providers reduce food waste and improve efficiency, found that its customers have typically reduced their pre-consumer food waste by 50% or more, which results in a 2%-6% savings on annual food purchases.
More than 60% of millennials are intentionally looking for employers whose sense of corporate responsibility matches their own. Food waste reduction and other sustainability programs can be part of your employee recruitment and retention efforts. Providing opportunities for food service staff to be creative in contributing to food waste reduction efforts can instill a sense of pride in their work and improve job satisfaction.
Sustainability
Reducing food waste is an important component of a hospital or health system's waste reduction and climate strategies. Waste falls under a hospital's scope 3 greenhouse gas emissions, and implementing reduction strategies can be a straightforward way to address this often complicated class of emissions.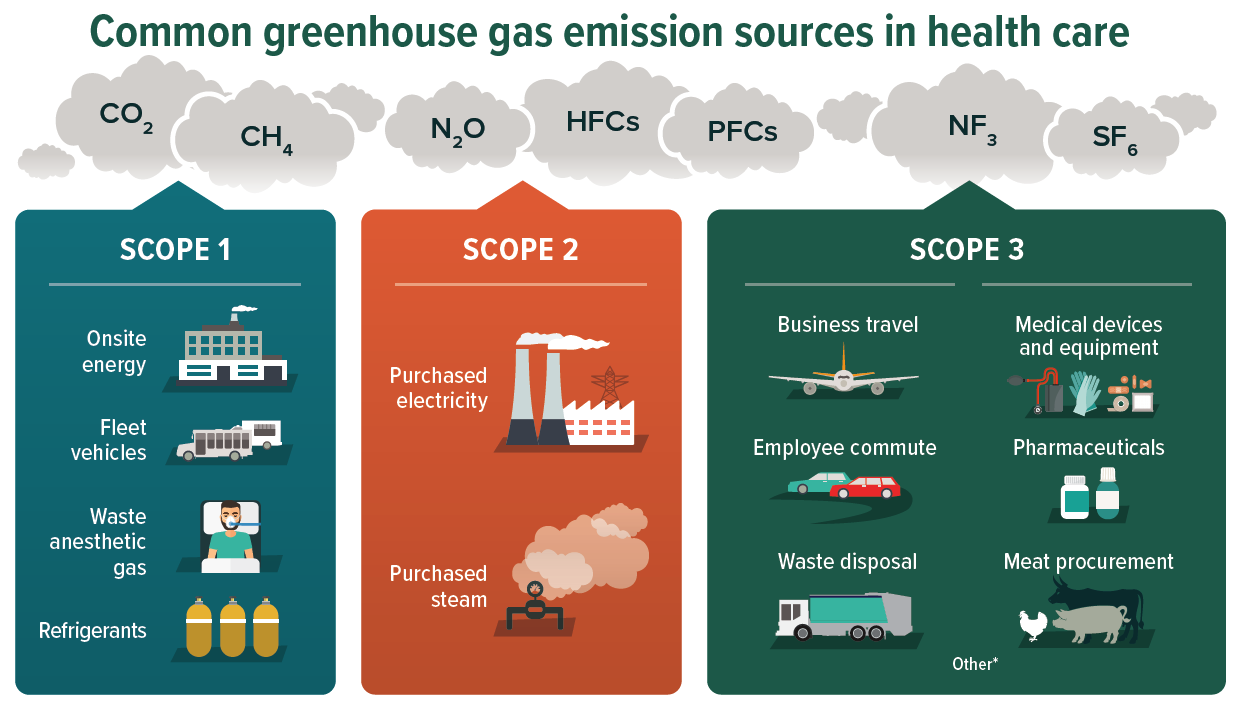 Over one-third of food produced, both edible and inedible, is sent to landfills, contributing to a rapidly changing climate. Decomposition of food and other organic materials in the oxygen-poor landfill environment creates methane, a powerful greenhouse gas that is 72 times more potent than carbon dioxide (over a 20-year period) and is a major contributor to the climate crisis.  
The EPA's 2021 report, From Farm to Kitchen: The Environmental Impacts of U.S. Food Waste, reveals the climate and environmental impacts of producing, processing, distributing, and retailing food that is ultimately wasted, and projects the environmental benefits of meeting the U.S. goal to reduce food waste by 50%.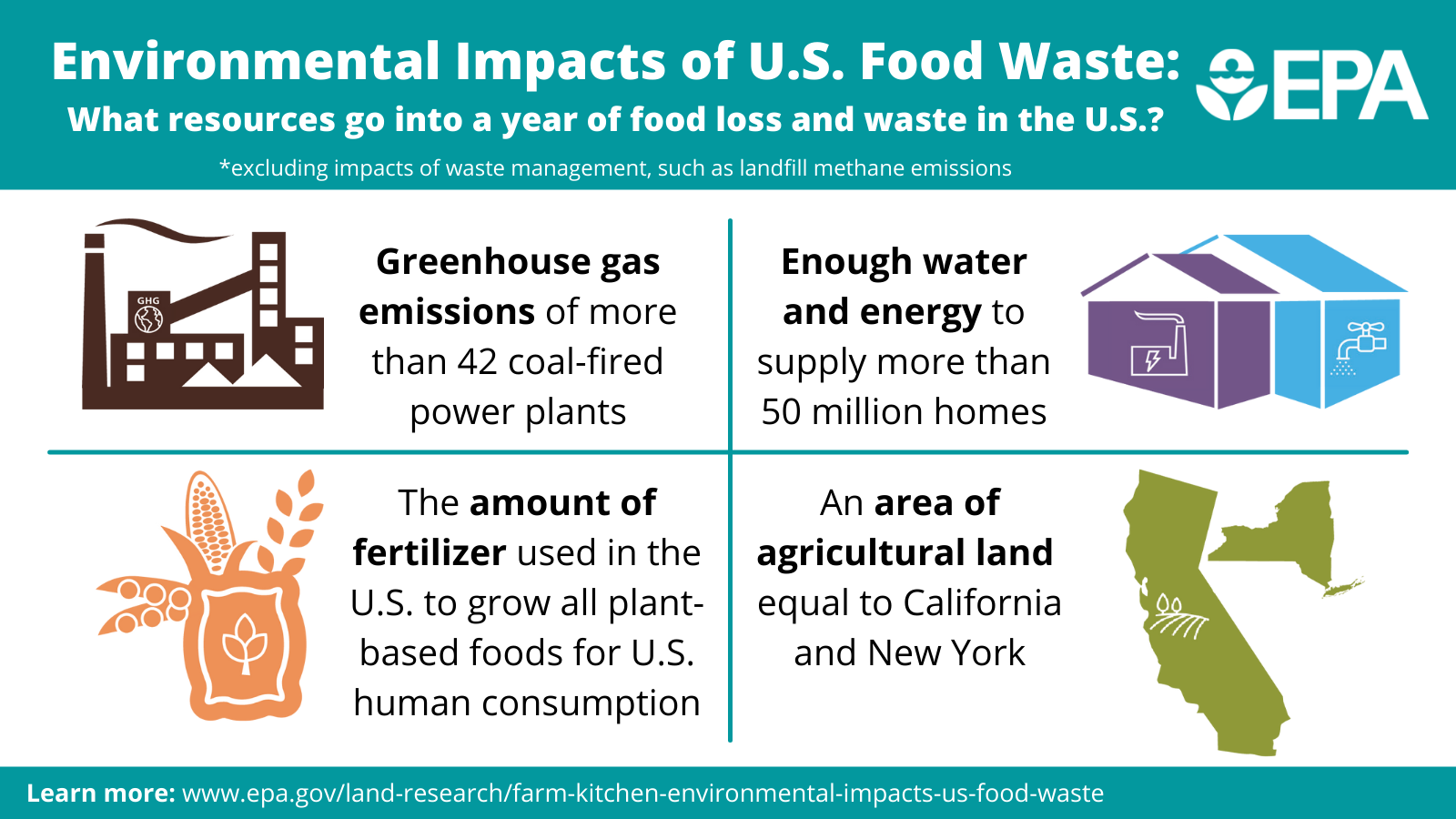 Food insecurity
In 2020, 1 in 6 people in the United States experienced food insecurity. This means over 15.6% of adults and 23.1% of children struggle to meet nutritional needs at some time during the year. Experts have also projected that reducing food losses by just 15% would provide enough food for more than 25 million people living in the United States every year.
In 2020, ten facilities from Sutter Health in California donated approximately 65,000 pounds of food to more than 40 area nonprofits within five miles of each facility
Public policy 
Legislation requiring food waste diversion is expanding at the state and federal levels as more and more regions strengthen their commitments to climate change mitigation. 
Find policies in your region using the ReFED U.S. food waste policy tracker.
Located in California? Check our state-specific policy guidance.
The federal Bill Emerson Good Samaritan Food Donation Act protects food donation participants. 
To encourage companies and organizations to donate healthy food that would otherwise go to waste, the Good Samaritan Food Donation Act protects food donation participants from criminal and civil liability.
Accordions Groups
Description group accordion
What you can do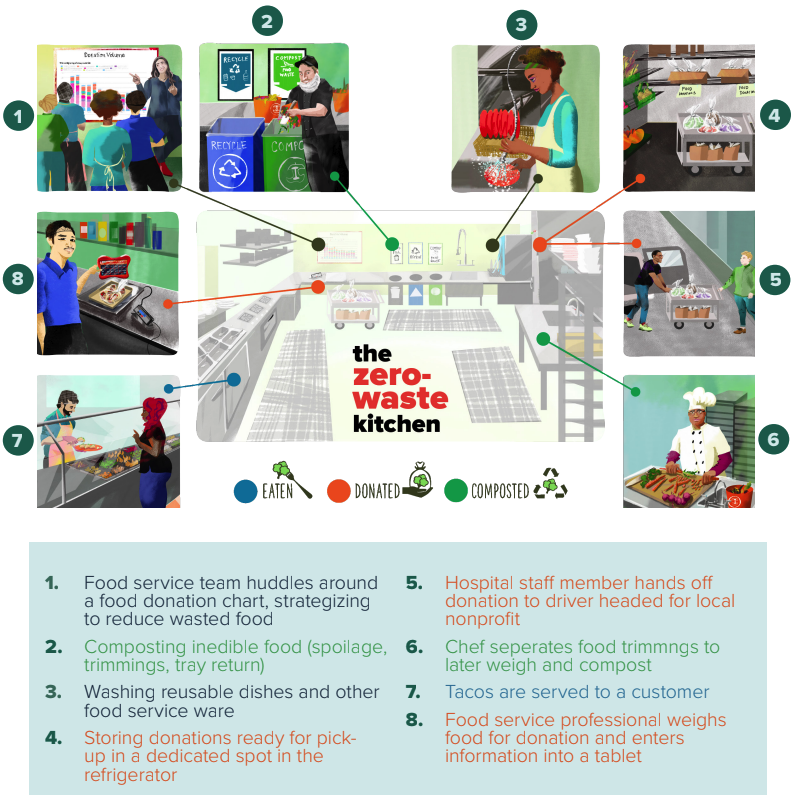 Accordions
Secure leadership's support by making the financial, environmental, and social case for reducing food waste and donating surplus food.
Support food service in their efforts as needed, including baselining and tracking, quantifying results, and finding solutions such as a food rescue organization or composter.
Support the integration of food waste reduction efforts into your organization's wider waste reduction plan/efforts, as well as climate change mitigation and resilience plans/efforts.
Share and celebrate your food service department's success in helping your organization meet its community health and environmental goals.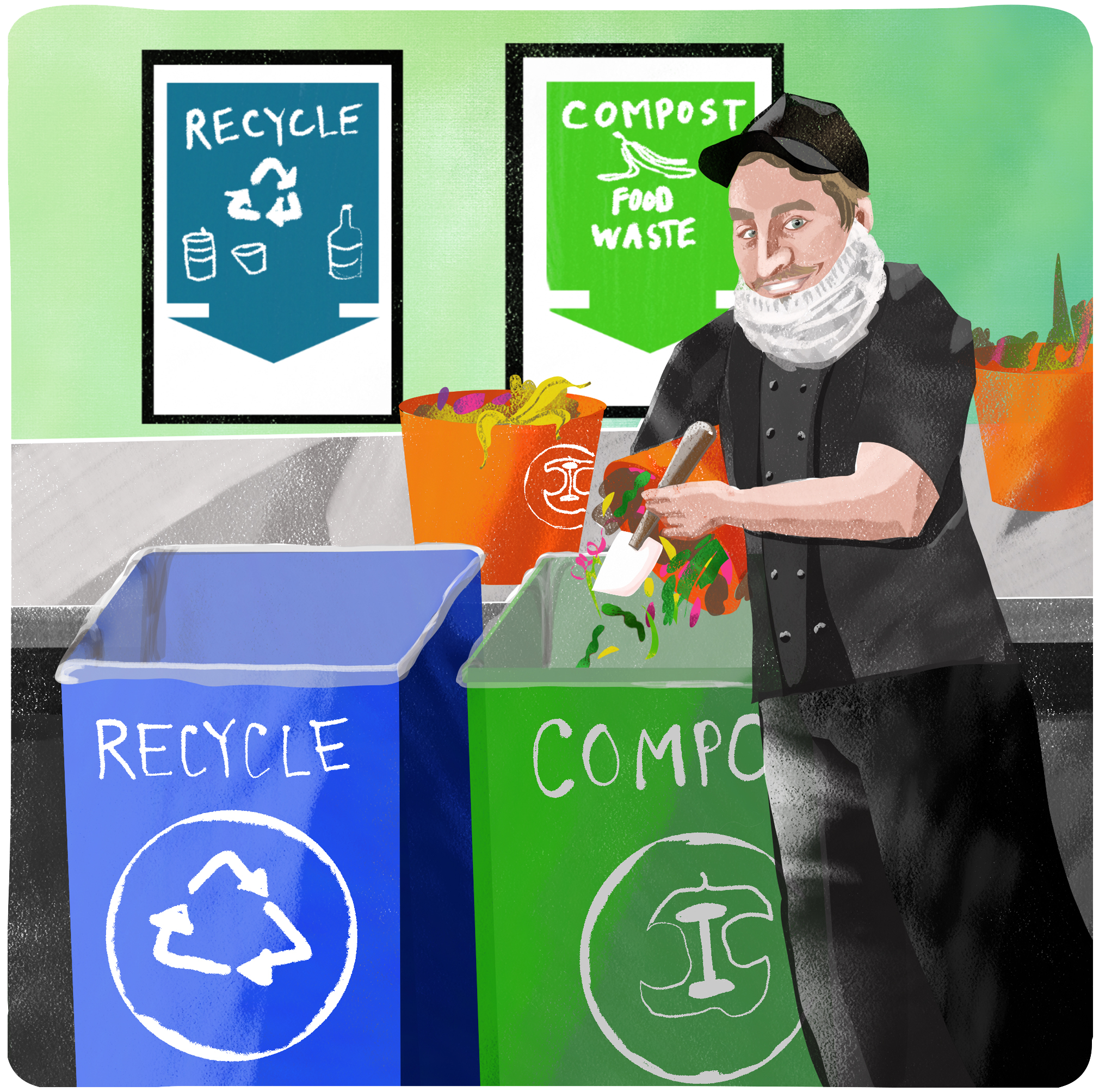 Conduct a waste audit to identify and measure different causes of food waste.
Lead source reduction strategies, and train staff on new protocols.
Include food waste protocols and targets in department policies, job descriptions, and employee performance reviews.
Work with community health or community benefit professionals to develop a donation program.
Cultivate a culture where food service staff are empowered to come up with solutions to food waste, and welcome creative ideas.
Work with environmental services on food recycling strategies. 
Track progress by conducting audits on a regular basis.
"From our earliest days, Sutter Health's network has provided access to high-quality, affordable medical care in our facilities – but we've also been deeply invested in the health and wellbeing of our broader communities.  The teams behind this project are putting our values into action by leveraging innovation to not only reduce our environmental footprint but also help feed community members in need." 

–  Dr. Stephen H. Lockhart, former Sutter Health chief medical officer 
Talk to leadership about the social benefits of reducing food waste.
Connect with food service staff about shared interests for reducing food waste.
Support food service in finding food donation partners in your community.
Support food service by celebrating efforts and communicating social benefits of the program.
Explore how your facility can report food donation efforts for community benefit.