Description
"I don't sell plant-based, I sell delicious looking and tasting food that just happens to be plant-based."  - Dan Henroid, University of California San Francisco Medical Center 
The University of California San Francisco Medical Center is a signatory of the Cool Food Pledge, a new platform to help hospitals offer diners more of what they want while slashing food-related greenhouse gas emissions. 
UC San Francisco is one of 64 signatories from health care. 
Here are some thoughts from Dan Henroid, UC San Francisco's director of nutrition and food services: 
Why have you focused on plant-forward eating in your facility?
Because it is the right thing to do for the health of our community and the environment.
Why did you sign the Cool Food Pledge?
We have been using third-party certifications to measure sustainability and surpassed our goal of 20% sustainable pretty quickly.  We wanted to take our work to the next level and utilize something science-based that could help us quantify our impact on the climate and the Cool Food Pledge met those specifications. We were also up for a new challenge.
How does the Cool Food Pledge help to meet your goals?
It helps us identify "hot spots" in our food purchasing to focus on reducing our GHG emissions.

How do you sell plant-based foods to your customers?
I don't sell plant-based, I sell delicious looking and tasting food that just happens to be plant-based. Our roots and shoots program is a great example - it has a catchy name and allows our chefs to get creative in coming up with dishes that combine root vegetables with other vegetables and plant proteins. Nowhere did it call out plant-based it just focused on the taste and theme and has been a top-selling item.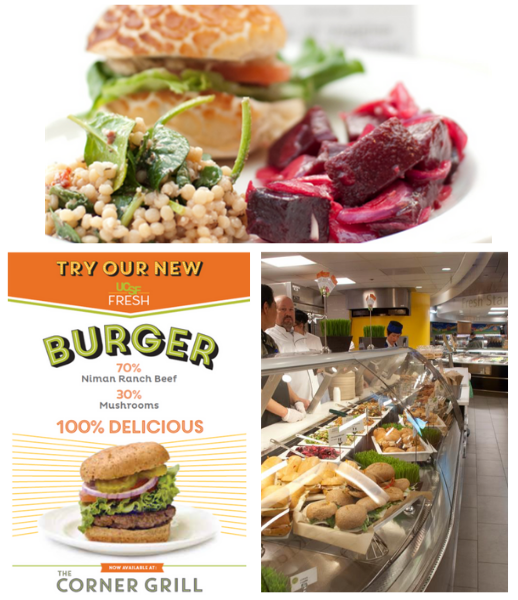 Have there been any challenges in selling plant-centered dishes?  How did you address them?
No. As mentioned we focus on how the dish tastes and the visual appeal. We analyze sales of all our dishes and if something isn't selling we eliminate it or change it. 
For example, we were selling a 100% grass-fed burger that just wasn't very good and sales showed it.  We decided to change it and created a mushroom and beef blended burger. 
We earned $49,774 more on our fresh mushroom blended burger compared to our original burger by marketing it simply as a "better burger." We also reduced our CO2 emissions and made our customers happy.
How have sales changed, if at all, after you implemented a plant-centered program?
We have to compete with many other options that are easily available outside of our facility and our sales go up each year.
What would you say to a food service director in another part of the country that may have doubts about plant-centered dishes selling in their facility?
Just try it. Learn about the cultures represented in your region and what is currently popular and come up with dishes that will meet your goals.