How to reduce waste during a pandemic
Published: 06/11/2020 - 11:58
Feature Image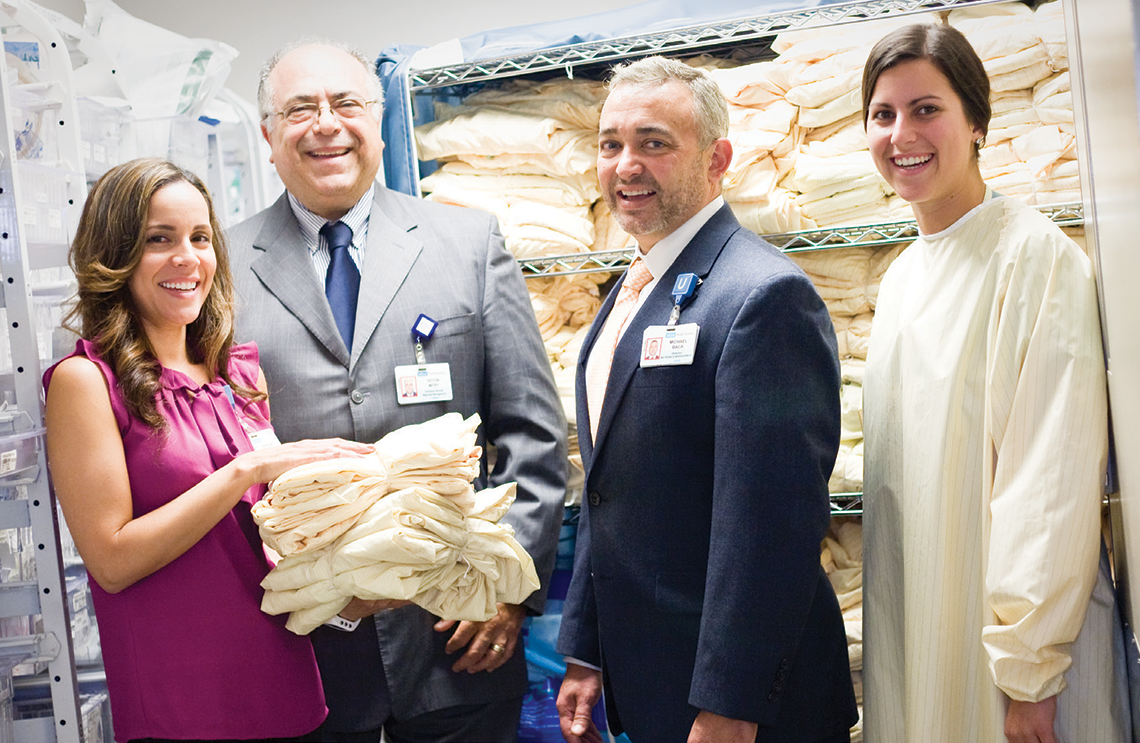 Body
Seeking ways to reduce waste during a pandemic may feel like an impossible or unimportant task, but it is more important than ever. Greenhouse gas emissions from waste represent 1-5% percent of U.S. emissions, and hospitals produce an average of 30 pounds of waste per patient per day. Most hospitals are experiencing an increase in waste during the COVID-19 pandemic, primarily due to the increased use of disposable PPE. During times of crisis, health systems are under intense pressure to serve the community while remaining financially viable. Waste reduction offers hospitals an opportunity to both decrease their environmental impact and reduce their overall costs.  
Disposable products may seem inexpensive, but the cost of handling the product incoming and outgoing, along with waste costs, can make the disposable product more expensive than reusable.The shortage of disposable PPE during the pandemic provides an additional reason to look into reusable PPE. Ronald Reagan UCLA Medical Center saved over $1.1 million and diverted 297 tons of waste after switching to reusable isolation gowns in 2012, and UC Health is now looking to expand the program to their entire system.
If your hospital is unable to invest in reusable equipment, linen, or PPE, looking into reprocessing disposable items is another safe opportunity to save money. Many single-use devices (SUD) can be reprocessed multiple times, according to the FDA. These reprocessed devices are just as safe as new ones because the FDA requires that SUDs meet the same manufacturing standard as the original product.  
We have also seen significant food insecurity during the COVID-19 pandemic. Food waste makes up about 10-15% of a hospital's solid waste production every day. Practice Greenhealth and Health Care Without Harm are working with a company called Copia to coordinate the donation of food from hospitals to communities facing increased food insecurity from COVID-19. 
 
In order to estimate the impact of your waste, check out the EPA Waste Reduction Model (WARM). WARM is a tool that calculates and totals the GHG emissions, energy savings, and economic impacts of baseline and alternative waste management practices, including source reduction, recycling, combustion, composting, anaerobic digestion, and landfilling. The Mazzetti WasteCare Calculator allows medical providers to calculate the emissions impact from all waste streams, including regulated medical waste. 
Practice Greenhealth offers a wealth of tools and resources for hospitals to reduce the amount of waste generated and to reduce the toxicity of waste by making smarter purchasing decisions upstream. These changes can help hospitals lower their carbon footprint, limit the amount of toxins in our world, and be more resilient in times of natural disasters or crisis by being less dependent on a vulnerable supply chain. 
 
Join Practice Greenhealth
Practice Greenhealth is the health care sector's go-to source for information, tools, data, resources, and expert technical support on sustainability initiatives that help hospitals and health systems meet their health, financial, and community goals.