Waste
Background
Hospitals in the U.S. produce more than 5.9 million tons of waste annually—a figure based on the amount of waste produced per staffed bed per day (33lbs) for Practice Greenhealth award winning hospitals and extrapolated to the number of staffed hospital beds nationwide. And this figure is conservative, considering that most award-winning hospitals have already made considerable progress in reducing the volume of waste they produce. Waste is a problem in every sector but in health care, in addition to sheer volume is the degree of complexity of the waste stream, due to the variety of types or categories of waste and materials.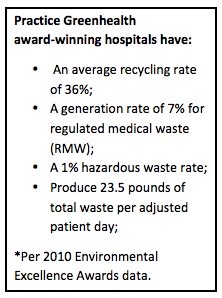 Beyond the fact that hospitals are spending valuable financial resources to dispose of these large volumes of waste, the ways in which waste is handled has the ability to significantly impact human health and the environment. Waste often ends up in a landfill where it produces methane—a potent greenhouse gas with six times the global warming potential of carbon dioxide, or ends up in a medical or waste-to-energy incinerator which also produces greenhouse gases while concurrently emitting dioxins, heavy metals such as mercury and cadmium, HCl gas and other toxic substances while leaving a toxic fly ash residue that must be managed. In fact, incinerators emit more CO2 per megawatt-hour than any fossil fuel-based power source - including coal-fired power plants, and have been linked to an increased risk of asthma in the surrounding communities. And pharmaceutical waste has been in the media recently for showing up in our nation's lakes, rivers and even drinking water.
Minimizing Health Care's Waste Footprint
Waste prevention and reduction is often one of the first areas of focus for a hospital getting its arms around the sustainability challenge, due to significant cost-savings potential and the huge opportunities for improvement. Waste reduction goes hand-in-hand with a focus on purchasing, as everything procured eventually becomes the waste or "stuff" we no longer want or can use. Health care organizations today are finding it critical to understand their waste footprint, quantify both the volumes being generated and the associated costs—and are increasingly looking for ways to benchmark their performance, as they seek new opportunities for reduction. There is a growing recognition that the growing volumes of waste being produced are representative of inefficiencies happening across the organization.
Practice Greenhealth has a robust set of tools and resources for assisting health care facilities in tracking, managing and minimizing their waste streams. Learn more at:
Learn more about the different kinds of waste health care produces and how your organization can begin reducing the waste it generates.