For hospitals, 'plant-forward' means big sales and a cooler planet
Published: 07/18/2019 - 09:55
Feature Image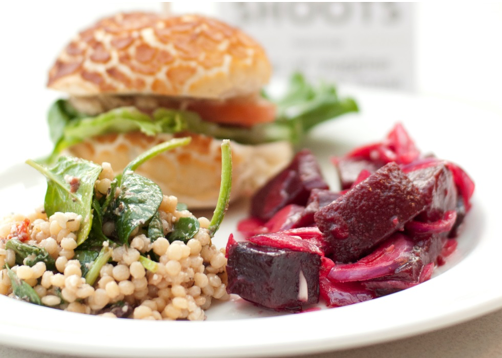 Body
"I don't sell plant-based, I sell delicious looking and tasting food that just happens to be plant-based."
– Dan Henroid, University of California San Francisco Medical Center 
 
Dan Henroid knows that his competition is fierce. Just steps away from his University of California San Francisco Medical Center campus are dozens of eateries that the hospital's staff and visitors could patronize.
In order to stay on-trend and maintain their customer base, UCSF introduced plant-forward menu concepts, reducing animal proteins and increasing plant proteins. Being a savvy marketer, Dan, UCSF's director of nutrition and food services, focused on taste, eye appeal, and creative naming for their new dishes, eschewing terms like vegan or vegetarian that can turn some diners off. 
Customers loved it and sales soared. Dan is thrilled with the response from diners but he is also happy with how the menu contributes to the hospital's wellness and climate change goals. Plant-based proteins require less water and land to produce, and they have a significantly lower carbon footprint.
In order to quantify their climate impact, UCSF signed the Cool Food Pledge. The Cool Food Pledge is a new platform to help hospitals offer diners more of what they want while slashing food-related greenhouse gas emissions, saving costs, and improving health.  
The pledge is a cross-sector initiative championed by the World Resources Institute. Health care is leading the pack with 30 facilities signed on so far to reduce their emissions from food purchasing, along with five signatories from other sectors including Hilton, Monde Nissin, and Morgan Stanley. 
The 30 health care signatories serve more than 34,105,010 (combined) meals annually. The Cool Food Pledge is a free benefit for Practice Greenhealth members and available to non-members at an affordable rate.
Cool Food Pledge early signers are already experiencing success offering plant-forward meal options:
Other health care signatories include University of California Los Angeles Health, Overlook Medical Center, University of California San Diego Health, Dartmouth Hitchcock Medical Center, University of California Davis Medical Center, Boston Medical Center, three facilities from UW health, and the 17 facilities that comprise Hackensack Meridian Health.  
Join Practice Greenhealth
Practice Greenhealth is the health care sector's go-to source for information, tools, data, resources, and expert technical support on sustainability initiatives that help hospitals and health systems meet their health, financial, and community goals.