Food Day Recipe Challenge
Every October 24, Food Day inspires Americans to resolve to make changes in our own diets and to take action to solve food-related problems in our communities at the local, state, and national level.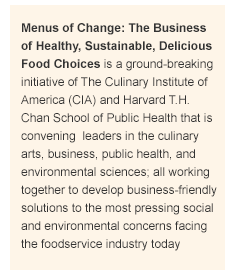 To celebrate Food Day in 2016, Health Care Without Harm and Practice Greenhealth have teamed up with Menus of Change, an initiative of the Culinary Institute of America, to help tell your story by featuring a recipe that energizes your culinary team and shares the message that hospital food can be delicious, healthy, affordable, and produced with care for the environment, and the people who grow, harvest and eat it.
Here is some of the content produced from the event
Blog: Hospitals Put Their Best Food Forward for Food Day
SlideShare: Hospitals Celebrate Food Day 2016
---
We'll provide you with sample recipes and culinary guidance from Menus of Change, information on how to source local and sustainably produced ingredients, and will share and publish your recipes, stories and photos so chefs and foodservice staff can collaborate and innovate with others by browsing recipes, discovering new sourcing ideas, and featuring your delicious and sustainable recipes in their operations throughout the year.
Here's how to participate:

Step #1:
Please use the RSVP form to let us know if you will be participating in the Food Day 2016 Recipe Challenge.
Step #2: Find a recipe.
Select from sample recipes provided by Menus of Change and Health Care Without Harm to find a recipe or create and share your own recipe that inspires you and your team.

Step #3: Plan your meal
Once a recipe is selected, procure and incorporate ingredients that fit at least one of these criteria:
For those signed up for Healthier Hospitals you can find more great ideas in the Healthier Foods "How to Guide."

Step #4: Cook, Serve, and Celebrate
On October 24, feature your recipe on patient and/or retail menus.

Step #5: Spread the Joy
Choose one of three methods to share the healing power of food—or do more than one or even all three!
Submit by November 7, 2016

Option #1: Social Media
Share your organization's excitement about healthy, sustainably produced food on twitter or another social media outlet with a photo of the feature dish. Be sure to tag with @pracgreenhealth and @CIALeadership to join our online discussion stream!
Pro Tip: Use the hashtag #FoodDay to participate in the nationwide conversation on changing the food system!
Examples
@[facility twitter handle] celebrates #FoodDay w/ Southwestern Stuffed Peppers made w/ #local and #organic ingredients @CIALeadership @pracgreenhealth
@[facility twitter handle] served Southwestern Stuffed Peppers for #FoodDay, a #organic, #local & #vegetarian menu option @CIALeadership @pracgreenhealth
Option #2: Recipe & Photo
Take a great photo (or several photos) of your meal. Make a copy of the recipe you chose. Submit your recipe and photos.
Pro Tip: Include some notes on sourcing or other tips and tricks you discovered along the way. Take photos of both the meal itself, the person(s) who cooked it and someone enjoying the result.
Option #3: Sourcing Story
Write 1-2 paragraph story of how you sourced the ingredients for your chosen recipe, how you chose to prepare the meal and how it was received. Submit your story and any supporting materials you'd like to include.
Greenings Hospital- Healthyville USA
For Food Day 2016 Greenings shared their commitment to healthy sustainable food by featuring global flavors with a focus on local sourcing. This year's selected Food Day recipe Southwestern Stuffed Peppers featured bell peppers, wild rice, corn, cilantro, green onion and black beans; all organic, all locally raised. Sourcing was made possible through ChangeMakers food hub, a local food aggregator who has been a vendor partner of Greenings since 2014. Other sustainably sourced ingredients include Moo's local cheddar cheese and sour cream produced without the use of routine antibiotics or growth hormones.

Patients and visitors alike tried the recipe at our Food Day event to rave reviews. This dish was so popular we will be featuring it as a weekly special in our cafeteria and a select item on our room service menu.
Pro Tip: This would also be a great feature for your facility's newsletter! Feel free to include a copy with your submission. We'll link to it on our website and increase your readership!
Promote Your Work!
Don't forget to promote Food Day throughout the month of October to create awareness and generate excitement. Use social media, email, newsletters and the official 2016 Food Day Recipe Challenge poster below.
Food Poster Template
| | |
| --- | --- |
| | The 2016 Food Day poster is an editable PDF with two text boxes. In the first box include your chosen recipe, ingredients or menu description, in the second box write a short paragraph about why you chose that recipe, it's sourcing story, and maybe a quote from the chef. The PDF is rich text sensitive, you can format your text in a word processor selecting the font and size you want, then copy and paste into the poster. |
Below is a poster with sample information included.