Greenhealth Cost of Ownership Calculator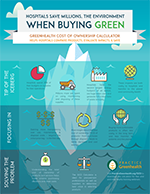 Many medical devices cost more than the purchase price when considering usage, maintenance and disposal costs. Evaluating these hidden costs before purchasing will help hospitals save money and reduce environmental impacts.
The GCO Calculator helps hospitals compare products, evaluate impacts, and save
Practice Greenhealth and our partners have developed the the Greenhealth Cost of Ownership (GCO) Calculator that brings these hidden costs to the surface. Using a standardized framework, the tool helps purchasers assess and compare costs, and make cost-saving decisions.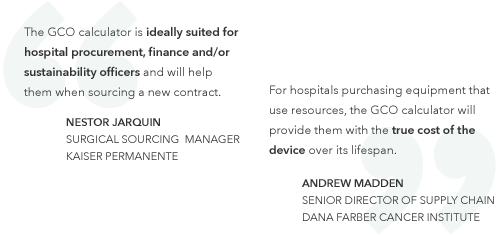 Calculator Benefits
The purpose of the calculator is to support hospitals and Group Purchasing Organizations (GPOs) in considering the cost of ownership in their procurement decision-making and ultimately provide the following benefits:
Cost Savings
By considering costs beyond the price tag, the calculator provides a framework to allow purchasers to account for costs that occur during acquisition, use, maintenance and disposal and identify which product/scenario has the lowest cost in the long run. Taking into account these additional costs ultimately helps reduce the costs of providing quality health care. Purchasing decisions should include these costs to assess the full cost to an organization.
Minimize Environmental Footprint
The tool provides a framework to capture costs associated with energy use, water consumption, fuel and waste disposal and assess the product with the lowest cost and least environmental impact to better inform purchasing decisions.
Improve Health
Product use and maintenance costs captured in the calculator are linked to environmental damaging or resource consuming activities, such as energy use, water consumption and end of life disposal. Reducing the use of these resources and associated costs all contribute to reduce potential impacts to patients, staff and communities served. Elements of cost that address a reduction in environmental and human health impacts are a priority to reduce health care's environmental footprint.
Identify Best Value
Using the calculator can drive long-term and sustainable cost savings for health care facilities and provide and facilitate best value in selecting health care products.

Training and Education
Take 60 minutes to become familiar with how to use the tool. It will make applying the calculator to product scenarios much easier.
After an hour of training, using the GCO Calculator will be easier. Sign up or listen to a training webinar so you can start using the GCO Calculator and identifying cost savings for your organization and buy what matters for healthier patients and communities.
Getting Started with the Greenhealth Cost of Ownership (GCO) Calculator
Listen to the archived recording from September 13, 2016 (45 minutes)
Detailed Assessments of Consumable/Reusable Goods using the Greenhealth Cost of Ownership (GCO) Calculator
Listen to the archived recording from September 27, 2016 (60 minutes)
Detailed Assessments of Durable Goods using the Greenhealth Cost of Ownership (GCO) Calculator
Listen to the arachived recording from September 29, 2016 (60 minutes)