Total Cost of Ownership (TCO) Project
Background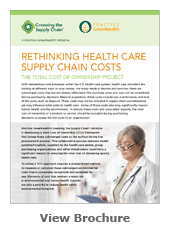 With tremendous cost pressures within the U.S. health care system, health care providers are pursuing various cost savings initiatives. For many medical devices and services, there are submerged costs that are not always reflected in the price and may not be currently considered during procurement decisions. These submerged costs include use and maintenance costs, such as the cost of energy, and end of life costs, such as the expense of waste disposal. Energy and waste are two examples of environmental costs that could reduce overall operational costs and minimize environmental impacts if they were incorporated into the supply chain equations. Purchasing decisions should include these costs to assess the full costs to an organization.
These environmental costs are a part of the total cost of ownership of a product or service. Providing a framework that brings these submerged costs to the surface during the procurement process could have a significant impact on reducing the total cost of delivering quality healthcare.
To utilize a Total Cost of Ownership (TCO) approach requires a standardized method to measure or calculate these submerged environmental costs that is universally recognized. Elements of cost that address a reduction in environmental and human health impacts are also a priority to reduce health care's environmental footprint.
The Project
As part of Practice Greenhealth's Greening the Supply Chain Initiative®, several companies joined together to take a leadership role in developing a Total Cost of Ownership (TCO) Framework and Tool to be used by health care providers to evaluate the total cost across the lifecycle of a medical device's use from purchase to end-of-use (disposal, reuse, etc).
The TCO Project has developed in two phases: Phase I was completed in the Fall of 2014. Phase I assessed the scope of costs and products that could be included, proved the concept through user case studies, and benchmarked existing TCO tools and best practices to frame the work in Phase II. Practice Greenhealth utilized a consulting firm, Trucost, for Phase I who was also tasked to explore key user requirements for the tool in order to be successfully integrated within purchasing processes. The scope of products the tool could support proved that a TCO tool could easily apply beyond the health care sector to include products and services purchased in other sectors, such as office supplies, cleaning services and more.
Trucost was also utilized to build the tool in Phase II. Phase II launched in September 2016 as the Greenhealth Cost of Ownership Calculator.
Benefits
The benefits to health care organizations in considering a total cost of ownership in their supply chain considerations include:
Addressing and reducing the costs of providing quality health care.
Increasing product and service efficiencies to ensure products are not wasted (disposed).
Minimizing the environmental footprint of health care through purchasing efficiencies.
Reducing the use of resources, such as energy and water; reducing the amount of waste disposed and associated costs; and using safer chemicals to reduce potential impacts to patients and staff.
Call to Action
To prepare to use the Greenhealth Cost of Ownership calculator:
View one or more training webinars:
Participants in the TCO Project
TCO Project member companies who are leading this effort represent a growing list of participants. In addition, the TCO Steering committee included not only representation from suppliers below but also from health care systems, hospitals, and GPOs:
Kaiser Permanente
Dignity Health
Intermountain Health
Dana Farber Cancer Institute
Virginia Mason Medical Center
ThedaCare
MedAssets (now Vizient)
Premier
HealthTrust
If you would like to learn more about this project and opportunities to participate, email Beth Eckl, at Beckl@practicegreenhealth.org.