Greening the Supply Chain Initiative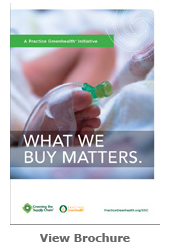 Greening the supply chain is an essential element for any health care facility embarking on a journey toward sustainable health care. Purchasing products and services with a reduced impact on human health and the environment takes into account one or more environmental attributes in products and services and applies them in the supply chain process. Many products used in health care environments have environmentally preferable alternatives that may reduce health impacts to patients and staff, eliminate hazardous waste disposal, save energy and water, or reduce the greenhouse gas emissions from a facility.
Demand for more environmentally preferable products is growing within health care facilities, GPOs and in the business marketplace. In response, Practice Greenhealth is creating a comprehensive approach to greening the supply chain that encompasses a collaborative effort between GPOs, suppliers and hospitals to bring greater environmental consciousness to the purchasing process. The goal is;
Create a common set of tools for purchasers, suppliers and others to ensure that environmentally preferable products are indeed available, cost competitive, of comparable quality, and generate a market shift in is direction.
Bring broader, shared involvement on the part of hospitals, GPOs and businesses through the establishment of work groups, guidance documents, and education and training opportunities for those involved in the EPP process
Each element of the Practice Greenhealth Greening the Supply Chain™ Initiative brings with it a wealth of resources and materials designed to educate, inform and generally assist those entities involved in greening the supply chain in the health care sector.
Elements of the Greening the Supply Chain™Initiative
The Greening the Supply Chain™ Initiative encompasses:
A collaborative effort among purchasers, suppliers and others to bring greater environmental consciousness to the purchasing process;
Development of Standardized Environmental Questions for health care products, based in part on the Kaiser Permanente Sustainability Scorecard, to create an industry standard for evaluating the sustainability of medical products;
A collaboration with Practice Greenhealth's hospital members supportive of environmentally preferable products;
Current State of Activity
Practice Greenhealth has been working with many of the largest GPOs who, together, represent over $135 billion annually in purchasing volume, to raise the level of environmental awareness and alter purchasing habits in this area. GPOs who take part in the EPP Supporter Program provide an important and meaningful foundation for building Greening the Supply Chain™ activities into purchasing programs in hospitals and elsewhere in the health care sector. Their level of involvement has brought an awareness of environmental purchasing to a myriad of stakeholders who might not otherwise have been familiar with the intricacies of EPP and thus not involved in environmental purchasing processes. GPOs have established EPP website resources, product databases and other tools to support their member's interest in environmentally preferable products. Practice Greenhealth has created a vast array of product-specific environmental criteria for health care products through the EPP Supporter Program, and the demand for "green" products continues unabated.
Hospital systems are also moving the greening of the supply chain efforts forward. The Healthier Hospitals Initiative (HHI) was created by the founding hospital members—Advocate Health Care; Catholic Healthcare West; Hospital Corporation of America, Inc; Kaiser Permanente; MedStar Health, INOVA; and Partners Healthcare Systems, Inc.—on the principle that hospitals have a responsibility to minimize the adverse environmental impacts of their operations on patients, staff and the natural environment. Sustainability initiatives implemented throughout the health care sector and its supply chain to ameliorate this crisis will create a new framework for safer health care delivery in this decade.
Many of the objectives of the HHI Agenda are informed substantially by the work accomplished in the various elements of the Greening the Supply Chain™Initiative.
The Greening the Supply Chain™ Initiative will provide additional leverage in the manufacture and production of environmentally preferable products through the development of relationships that go beyond the health care supply chain and include a thorough analysis of the supply chains of vendors.
Beyond the excellent and meaningful work being done by GPOs and hospitals, the complexity of navigating environmental criteria and certifications for products with reduced environmental and human health impact is at best cumbersome for purchasers and vendors as well. Building Green, Inc. recently released a book of 350 labeling programs for EPP products. Some labeling entities do not provide clear standards and others have not been created in a multi-stakeholder, transparent process. How does one vet all of these programs in a short period of time? Are there environmental standards for medical products available for purchasers to use? While there are environmental standards and certification programs for many products, there are few for medical products.
The drive toward building an aggressive platform for environmentally preferable products has grown on many levels and it is increasingly feasible for one to lose track of important developments. Businesses, in particular, may find themselves behind the curve in terms of processes, procedures, requirements, and have a general lack of information regarding important new elements in environmentally preferable purchasing innovations that are emanating from hospitals. Thus, it is imperative to have a training and education program that keeps hospitals, GPOs and their suppliers working apace and partnering where possible to achieve goals. To produce product and process requirements, specifications, and RFP questions that may not be understood by sellers is less than productive.
The Response
Practice Greenhealth's Greening the Supply Chain™ Initiative is responding to this lack of information and coordination in several ways, including building an EPP Specifications Guide for Health Care to employ multi-attribute environmental criteria to evaluate medical products. Additionally, there is significant attention to advancing the build out of purchasing quidance through the Standardized Environmental Disclosure Questions for Medical Products. These standardized product questions will help ensure suppliers know the key environmental concerns facing health care today. The Standardized Environmental Disclosure Questions for Medical Products and the EPP Specifications Guide, each a part of Practice Greenhealth's Greening the Supply Chain™ Initiative, are certainly two of the most aggressive tools under development that succinctly address the level of environmental acceptability built into products that are eventually sold into the sector.
Contact Us
To find out how you can take part in Greening the Supply Chain Initiative, contact Beth Eckl, Director, Environmental Purchasing Program: 866-598-2240; beckl@practicegreenhealth.org