Body
Health care systems have unique responsibilities when it comes to making sure building design and construction is sustainable and safe for staff, patients, and other occupants, including making sure:
People with any ability or disability may move around freely and safely
The facility stands ready for any emergency and is prepared to provide continuous care no matter the external circumstances
The indoor and exterior environments maximize patient healing and decrease the length of stay
The indoor environment does not expose staff or patients to pollutants and chemicals of concern
The building and grounds maintain capability and flexibility to grow and change with the changing care needs of the community
Our member hospitals have changed their thinking about the design of buildings and renovations to make them smarter and more sustainable through:
Policies to design, construct, and renovate aligned with established environmental certification standards, such as LEED or other tools
Purchasing/procurement policies for furnishings, flooring, wall coverings, and paint that avoid chemicals of concern
Planning spaces like gardens and calm rooms that improve emotional well-being and promote healing
Practice Greenhealth helps members access expert advice, peer-to-peer insight, and professional input into setting baselines, identifying goals, and implementing strategies that will make their facilities safe and sustainable for patients, visitors, staff, and the surrounding community now and in the future.
---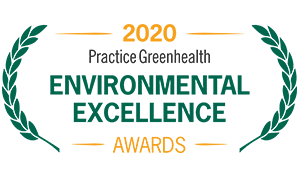 The Environmental Excellence Awards are the nation's premier recognition program for environmental performance in the health care sector. The Circle of Excellence Awards celebrate hospitals who have not only earned an award for all around sustainability achievement, but who have also been identified as the top scoring programs for each category of sustainability.
The Green Building Circle is presented to hospitals that have demonstrated LEED and other innovative green building achievements over the past five years. These hospitals emphasize policies that show a commitment to the requirement of LEED construction standards for all major new builds or renovations. Their achievements include energy and water efficiency, safer materials, regional sourcing, integration of nature and other mechanisms to create high-performance healing environments:
Honorees
Advocate Christ Medical Center and Advocate Children's Hospital
Cleveland Clinic*
Memorial Sloan Kettering Cancer Center*
NYU Langone Health - Main Campus
The University of Vermont Medical Center*
UC Davis Health
UCLA Health Ronald Reagan University Medical Center*
VHA 08 VA Caribbean Healthcare System (San Juan, PR)*
*also a Top 25 honoree