Council for Environmentally Responsible Surgery

The Council for Environmentally Responsible Surgery (CERS) is an initiative aimed at increasing peer leadership and peer-to-peer learning among physicians in the operating room (OR) supporting sustainability efforts. Physicians in the OR—including surgeons, anesthesiologists and other physicians who perform surgery—have a natural leadership role and make many of the fundamental decisions regarding supply choices and even operational processes. Physicians across the healthcare sector are increasingly making the link between environmental choices and their impact on health—as well as finances, and worker and patient safety. This initiative harnesses the voices of engaged physicians in the OR as a means to recruit, motivate, educate and support other physicians in building sustainable programs at their organizations.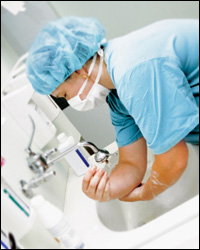 Physicians are incredibly busy individuals and have extremely limited time to devote to new endeavors—even ones they feel passionately about. With this in mind, Practice Greenhealth has launched CERS with a focus on creating opportunities for physicians to engage when they can and how they can, given limited time.
Learn more about how you can participate in becoming a voice for sustainable practices—both at your organization and across the sector—through the Council for Environmentally Responsible Surgery.