Sutter Health and Practice Greenhealth gather for healthier environments visioning
Published: 03/25/2019 - 13:51
Feature Image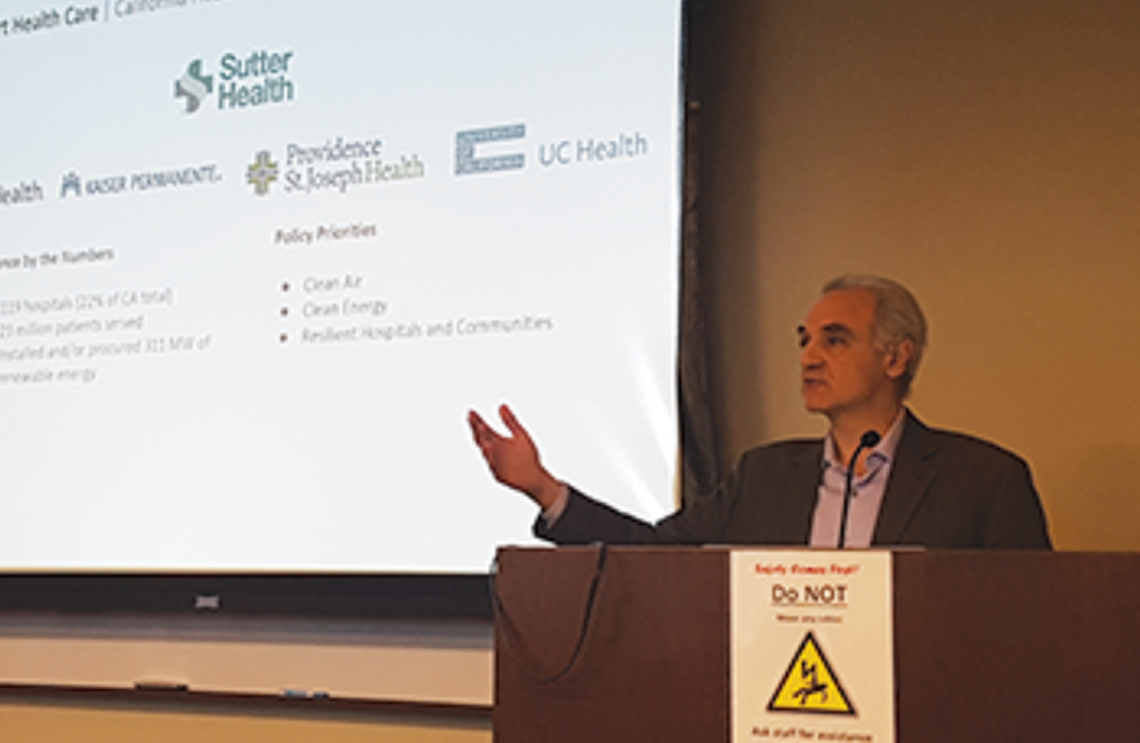 Body
Dr. Stephen Lockhart, Sutter Health's chief medical officer and executive sponsor for sustainability, highlighted the health system's priority focus areas.
 
By Janet Howard, Practice Greenhealth member engagement director
In January, Gary Cohen, Health Care Without Harm and Practice Greenhealth president and co-founder, Robyn Rothman, climate and health policy manager, Thresa Pattee, member engagement manager, and I traveled to Sutter Health's Fairfield, Calif., offices for a review of their 2018 sustainability accomplishments and to brainstorm and strategize opportunities for the year ahead.
The event came together under the leadership of Dr. Stephen Lockhart, Sutter Health's chief medical officer and executive sponsor for sustainability, and Tom Cooper, Sutter's sustainability and standards program manager, who gathered a wide array of staff from across the 24-hospital health system with a shared passion for environmental commitment and quality patient care.
We began with a welcome by Sarah Krevans, Sutter Health president and CEO, who set the stage for the event. Gary Cohen then discussed health care's role in communities as anchor institutions and the opportunity to connect environmental stewardship to climate health and community benefit and demonstrate Sutter Health's leadership.
"Sutter has made incredible progress over the last year," Cohen said. "Under Dr. Lockhart and Tom Cooper's leadership, they have recruited many champions from various departments and created internal policies to accelerate their progress and are now poised to become a high-performing health system in service of community and planetary healing."
Cohen applauded Sutter Health for being among the founding members of the California Health Care Climate Alliance, formed in 2018 with other leading health systems. He also highlighted the California Emerald Cities Collaborative, which facilitates important local activities, including food sourcing, food processing, and support of local food systems and the economy.
I followed with a presentation on employee engagement and its vital connection to a formalized communication strategy. I had interviewed Practice Greenhealth members Advocate Aurora Health, Cleveland Clinic, Hackensack Meridian, HealthPartners, Inova Health, Memorial Sloan Kettering Cancer Center, and UCSF and shared their successful efforts, including departmental champions and checklists, connecting environmental stewardship with wellness activities, internal awards and recognition, new employee and annual staff training, events, poster campaigns, and satisfaction surveys.  
To close the meeting, attendees reflected on the conversations we had and brainstormed next steps. We all felt energized by the day's events and committed to reporting back with fleshed- out ideas from the discussions.  
It was exciting for our team to see the action-oriented group come together, share their accomplishments, and enthusiastically look to the coming year. Thank you to Sutter Health for a powerful and inspirational event.  
The following environmental mission statement was developed by Sutter Health's sustainability leadership team as one of the outcomes of their strategic deployment consult with Practice Greenhealth:
"Sutter Health enhances the well-being of people in the communities we serve, in part by protecting and improving the environment."
 
Gary Cohen, Practice Greenhealth president and co-founder, thanks Sutter Health for being a founding member of the California Health Care Climate Alliance with other leading health systems.
 
An impromptu site visit was made to Sutter Fairfield Medical Campus to view their solar pilot program.
Join Practice Greenhealth
Practice Greenhealth is the health care sector's go-to source for information, tools, data, resources, and expert technical support on sustainability initiatives that help hospitals and health systems meet their health, financial, and community goals.