Practice Greenhealth announces 2021 Environmental Excellence Award winners
Published: 07/21/2021 - 13:47
Feature Image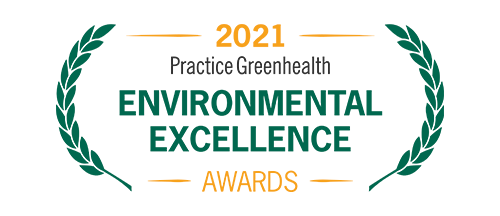 Body
Practice Greenhealth is excited to announce the recipients of this year's Environmental Excellence Awards, recognizing health care facilities across the country that have maintained and strengthened their commitment to sustainability amidst a pandemic. Health care institutions have found innovative ways to make progress on reducing their environmental impacts while facing unique challenges in the past year. These facilities recognize the intrinsic link between environment, climate, and health, and are working to lead by example.
Hospitals reported achievement across 11 different areas of sustainability through the annual Environmental Excellence Awards program – while highlighting their collaborations with the community, their investments in resilience, and their resolve to address issues of racial equity and health disparities.
"Despite immense challenges, the health care sector has continued to step up to the challenge of addressing environmental factors that impact health," said Gary Cohen, Practice Greenhealth founder and president. "These hospitals are demonstrating that smarter, more sustainable operations and values-driven purchasing can transform a sector while moving toward a more expansive definition of health."
Winners range in size from large, urban, academic medical centers to rural critical access hospitals – but each facility is addressing the links between the environment and human health – and have programs and data to demonstrate their successes. Health care institutions have increasingly made formal commitments to address climate change, are engaging staff in supporting their sustainability programs, are working to avoid chemicals of concern in purchasing, are continuing to invest in energy-smart solutions, and are showing leadership in their local communities.
Learn more about all of the Environmental Excellence Award winners.
About Practice Greenhealth
Practice Greenhealth is the leading membership and networking organization for sustainable health care, delivering environmental solutions to more than 1,100 U.S. hospitals and health systems.
 
Join Practice Greenhealth
Practice Greenhealth is the health care sector's go-to source for information, tools, data, resources, and expert technical support on sustainability initiatives that help hospitals and health systems meet their health, financial, and community goals.