New Pandemic perspective shares insights on health care sustainability
Published: 12/15/2021 - 11:49
Feature Image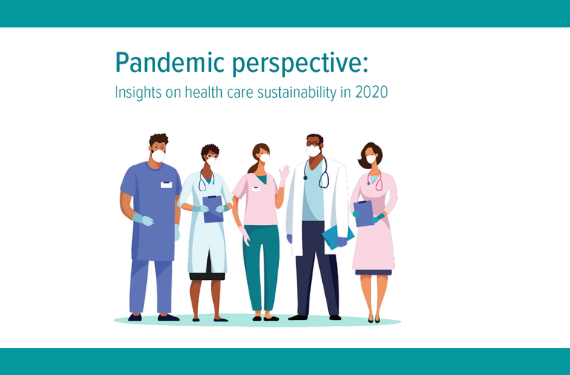 Body
The COVID-19 pandemic upended health care and continues to have lasting impacts on the way we deliver care. It brought significant shifts in hospital operations, from shutting down elective surgeries and reducing food service to dealing with monumental supply chain challenges and a rapid transition to telehealth.
Sustainability leaders at Practice Greenhealth partner hospitals remained committed to maintaining sustainable practices where possible and lending sustainability expertise to emerging challenges.
As the only organization collecting comprehensive sustainability data for the health care sector, we were uniquely positioned to pivot to gather and analyze additional data highlighting how the pandemic influenced sustainability performance and shifted operational practices within the Practice Greenhealth partner network in 2020.
Hospitals repeatedly stressed the importance of:
Building resilience into their operations,
Placing more reliance on local and multiple suppliers,
Having more PPE stockpiled, and
Increased focus on reusables where feasible.
The pandemic perspective is a companion piece to the 2021 sustainability benchmark report, which provides greater detail on the U.S. health care sector's sustainability performance in 2020.

Learn more about Practice Greenhealth's sustainability data.
Join Practice Greenhealth
Practice Greenhealth is the health care sector's go-to source for information, tools, data, resources, and expert technical support on sustainability initiatives that help hospitals and health systems meet their health, financial, and community goals.