Leading U.S. hospitals recognized for their sustainability commitment
Published: 04/22/2019 - 15:29
Feature Image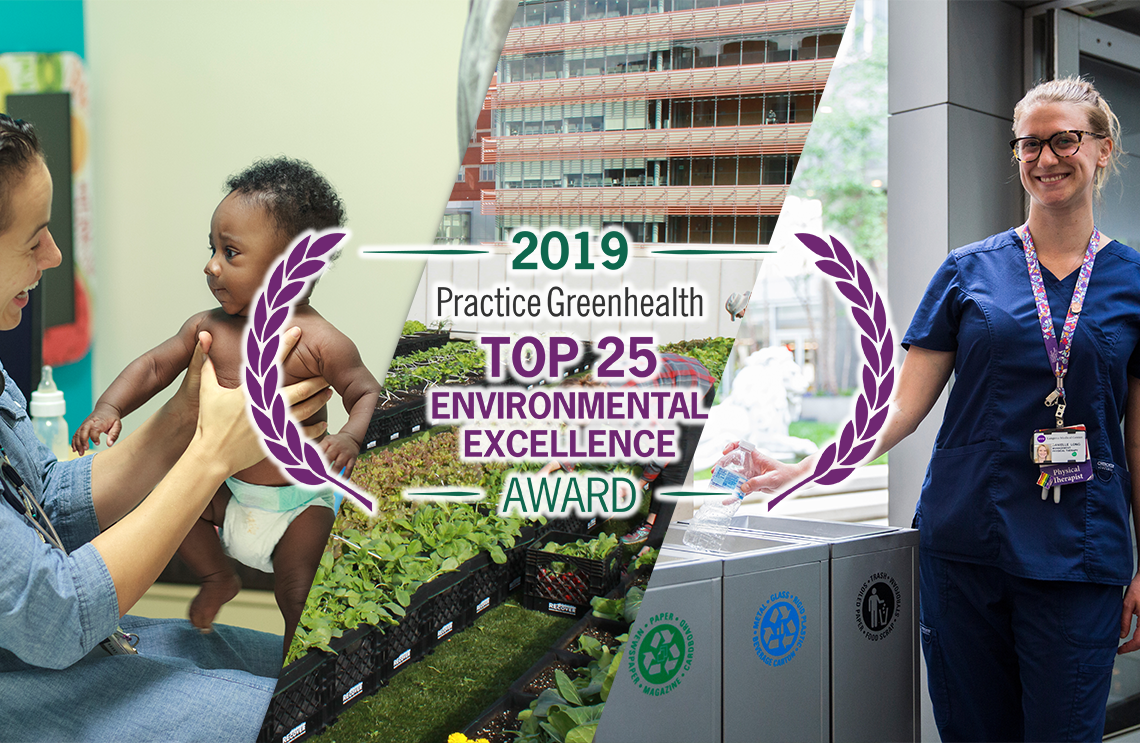 Body
Practice Greenhealth is excited to announce this year's recipients of the Top 25 Environmental Excellence Awards, the most prestigious environmental achievement for health care. These facilities exemplify the highest standards for environmental sustainability practices in health care.
In addition to the Top 25, Practice Greenhealth will recognize 379 health care organizations across 10 different areas of sustainability through its annual Environmental Excellence Awards program.
"As more and more hospitals embed sustainability into their operations, the bar for environmental excellence increases every year," said Gary Cohen, president of Practice Greenhealth. "These 25 hospitals demonstrate the kind of leadership, innovation, and performance that can drive the entire health sector toward more environmentally responsible practices and a more expansive definition of health."
The Top 25 winners for 2019 are (in alphabetical order):
Boston Medical Center (Boston, Mass.)

Cleveland Clinic (Cleveland, Ohio)

Hackensack Meridian Health - Hackensack University Medical Center (Hackensack, N.J.)

Harborview Medical Center (Seattle, Wash.)

Hudson Hospital (Hudson, Wis.)

Lakeview Hospital (Stillwater, Minn.)

Memorial Sloan Kettering Cancer Center (New York, N.Y.)

NYU Langone Health - Main Campus* (New York, N.Y.)

Overlook Medical Center (Summit, N.J.)

Park Nicollet Methodist Hospital (St. Louis Park, Minn.)

Regions Hospital (St. Paul, Minn.)

Seattle Children's (Seattle, Wash.)

University of Vermont Medical Center (Burlington, Vt.)

U.S. Army, Carl R. Darnall Army Medical Center (Fort Hood, Texas)

University of Washington Medical Center (Seattle, Wash.)

VHA 04 Erie VA Medical Center (Erie, Penn.)

VHA 04 James E. VanZandt VA Medical Center (Altoona, Penn.)

VHA 07 Ralph H. Johnson VA Medical Center (Charleston, S.C.)

VHA 08 VA Caribbean Healthcare System* (San Juan, P.R.)

VHA 12 Clement J. Zablocki VA Medical Center (Milwaukee, Wis.)

VHA 23 Minneapolis VA Health Care System (Minneapolis, Minn.)

VHA 23 St. Cloud VA Healthcare System (St. Cloud, Minn.)

Virginia Mason Hospital & Seattle Medical Center (Seattle, Wash.)

Virginia Mason Memorial* (Yakima, Wash.)

Westfields Hospital* (New Richmond, Wis.)
* First time appearing on the Top 25 list.
Top 25 winners range in size from large, urban, academic medical centers to rural critical access hospitals – but are all leading the country in addressing the links between the environment and human health – and have the programs and data to demonstrate their successes. These facilities have formal commitments to address climate change, are avoiding chemicals of concern and reducing meat served, have engaged staff supporting their sustainability programs, and show leadership in their local communities and across the health care sector.
Award winners are chosen among hospital applicants that have the highest scores on the Greenhealth Partner for Change application. Each year, the competition for these top spots increases, as a growing number of facilities are implementing innovative, sustainable, and replicable practices.
Practice Greenhealth will celebrate all of this year's award winners on May 9 in Nashville at the Environmental Excellence Awards Gala during CleanMed 2019. These include the Top 25, the Visionary Leader Award, the Circles of Excellence, the Greening the OR Leadership Award, the Greenhealth Emerald Award, Partner for Change and Partner Recognition Awards, the Making Medicine Mercury-Free and Greening the OR Recognition Awards, and the System for Change Award.
Learn more about all of the Environmental Excellence Award winners.
About Practice Greenhealth
Practice Greenhealth is the leading membership and networking organization for sustainable health care, delivering environmental solutions to more than 1,100 U.S. hospitals and health systems.
Join Practice Greenhealth
Practice Greenhealth is the health care sector's go-to source for information, tools, data, resources, and expert technical support on sustainability initiatives that help hospitals and health systems meet their health, financial, and community goals.