Use Earth Day to take steps toward building a culture of sustainability
Published: 03/14/2023 - 19:05
Feature Image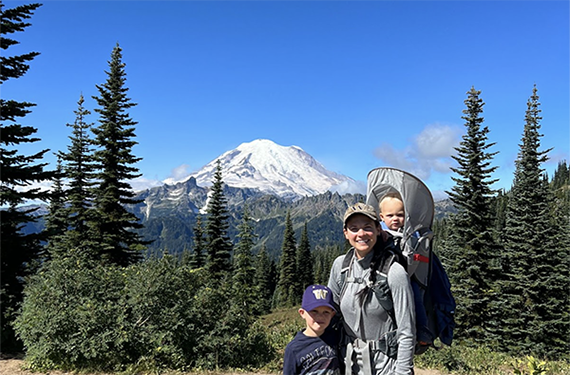 Body
By Kate Gottlieb, Practice Greenhealth sustainability strategy manager 

I grew up in a temperate rainforest on the boundary of the Olympic National Park and the Quinault Indian Reservation in Washington. I have witnessed and experienced the effects of climate change. The melting of our local glacier has impacted salmon runs, rising sea levels and storms have threatened tribal villages along the coastline, and wildfires are becoming increasingly frequent. 
As a mom of two, I believe it is my duty to show my boys how to be stewards of this planet. We pick up trash when we see it on the ground, turn off lights when we leave a room, conserve water, and compost our food scraps to support a local farm. And as a sustainability strategy manager at Practice Greenhealth, I support hospitals in implementing sustainability initiatives to lower their climate footprint and conserve natural resources. 
Celebrated each year on April 22, Earth Day reminds me that we are all responsible for protecting our environment. Hospitals have a unique opportunity to weave sustainability into the fabric of their organizations, and Earth Day offers an opportunity to engage staff and community members and spark or renew your organization's commitment to sustainability.
---
Consider the following tips:
Empower employees to celebrate and share their good habits
Embedding sustainability into your hospital or health system's culture and encouraging staff to be agents of change are some of the most important things you can do for the long-term success of your organization's sustainability efforts. Staff must not only understand the organization's sustainability commitments and initiatives, but also need to be part of developing the solutions. 
Inspire your employees to choose a plant-forward meal once per day with Plant Powered 30, a fun, 30-day employee engagement challenge. Sign up for access to all you need to run the challenge including promo materials, a punch card, recipes, fun facts, and more.
Create opportunities to showcase staff who carpool, use bike-sharing options, or take public transportation. Consider celebrating National Walk to Work Day (the first Friday of April) or National Bike to Work Day (the third Friday in May), and have staff share their experiences and tips over coffee and tea upon arrival. 
Bring the community together
When hospitals find ways to help patients, visitors, and members of the communities they serve connect their everyday activities to live healthy, sustainable lifestyles, the possibilities are endless. Consider partnering with community organizations that support sustainability or environmental justice to bring education, screenings, or tips to where people routinely gather. Some examples include community gardens, food pantries, libraries, places of worship, or other locations where people access public services. 
Recognize native communities whose practices and spiritualities are tied to the land
I live on the traditional land of the Yakama people. The federally-recognized Confederated Tribes and bands of the Yakama Nation are made up of Klickitat, Palus, Wallawalla, Wanapam, Wenatchee, Wishram, and Yakama people. The Yakama people remain committed stewards of the land, cherishing and protecting it, as instructed by elders through generations. 
Take a moment at the start of your meetings to acknowledge the land your hospital is on and those who have stewarded it for generations. An acknowledgment is a simple, powerful way to show respect and step toward honoring the truth and correcting the stories and practices that erase Indigenous people's history and culture.
Publish stories about your hospital's sustainability champions
Work with your communications or marketing team to interview a sustainability champion or two from your organization on what sustainability means to them and how they are supporting sustainability efforts. Reinforce how sustainability is tied to the mission, vision, values, and high-level priorities of the organization. 
 
Join Practice Greenhealth
Practice Greenhealth is the health care sector's go-to source for information, tools, data, resources, and expert technical support on sustainability initiatives that help hospitals and health systems meet their health, financial, and community goals.