Published: 03/19/2020 - 09:44
Feature Image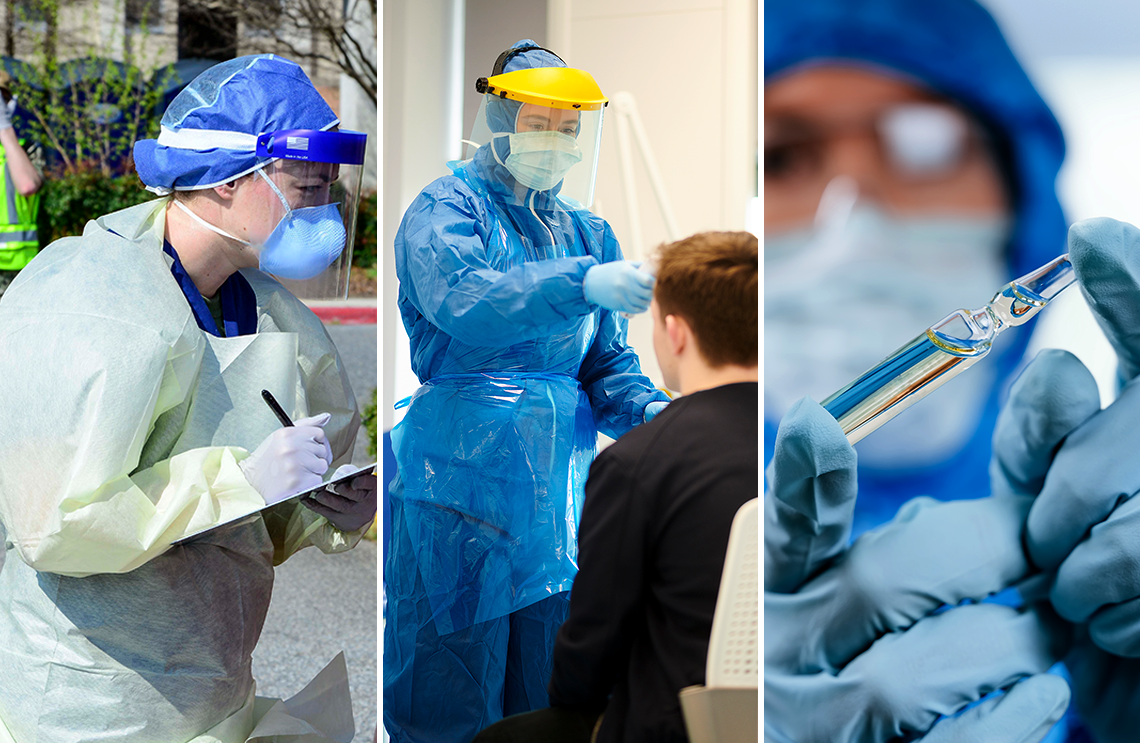 Body
We recognize the burden our community is under. Many of you are on the front lines of this unfolding crisis caring for people with COVID-19. From all the staff at Practice Greenhealth and Health Care Without Harm, thank you for your tireless work during this unprecedented time. We have heard countless stories of hope, community, and compassion from across the health care sector. We are all humbled and inspired by you.
Supporting our health care partners remains our priority. At a time when there are few answers, we welcome you to share your thoughts and challenges so we may begin a dialogue around solutions. We are here to support in any way we can. Please reach out to your member engagement representative or email us directly.
---
Resources 
Last updated: 2:36 pm ET, April 2
The following list of resources offers ideas and solutions to some of the challenges you may be facing at your facility in managing the COVID-19 crisis. We will regularly update this page with new information. 
Resource lists
These resource lists by trusted organizations are updated regularly. 
AORN clinical information to support nurses and health care teams
ECRI COVID-19 resources for supply chain
AHRMM recommendations on COVID-19 for health care supply chain
Association for the Health Care Environment coronavirus environmental services resources
FDA current emergency use authorizations 
Guidance on personal protective equipment including sterilization and reprocessing.
National PPE Coalition 
A coordinated group organizations collaborating to source PPE for health care
American Hospital Association PPE information and guidance
Information, policies, procedures and best practices around PPEs including supplying from home, decontamination, and reuse. 
Webinar
April 3 webinar on Protecting health care workers: Reuse and decontamination of N95 respirators presented by ACOEM
Supply chain
CDC

ECRI
FDA
American Hospital Association
ASPR
Infection prevention
CDC decontamination and reuse of filtering facepiece respirators using contingency and crisis capacity strategies.
Based on the limited research available, ultraviolet germicidal irradiation, vaporous hydrogen peroxide, and moist heat showed the most promise as potential methods to decontaminate respirators.
Association of Medical Device Reprocessors (ADMR) Statement On COVID-19 Response
Recommended actions on communication and coordination with off-site 3rd-party reprocessors.
CDC recommended guidance for extended use and limited reuse of N95 filtering facepiece respirators in healthcare settings 
Effects of ultraviolet germicidal irradiation (UVGI) on N95 respirator filtration performance and structural integrity, Journal of Occupational and Environmental Hygiene 
Filter quality of electret masks in filtering 14.6-594 nm aerosol particles: Effects of 5 decontamination methods, PlOS 
Free PDF on reusability of facemasks during an influenza pandemic from National Academies of Sciences Engineering Medicine 
Free PDF on reusable elastomeric respirators in health care: Considerations for routine and surge use from National Academies of Sciences Engineering Medicine 
Cleaning
EPA list of disinfectants for use against COVID-19 
 
CDC infection control guidance 
CDC interim recommendations: Steps for health care professionals to take with patients suspected or confirmed to have COVID-19
Facility management
Center for Health Design's COVID-19 resources for health care facilities
Guidance on using building design to minimize the impact of infections and transmittable diseases in healthcare facilities, isolation rooms.
Six ASHE recommendations for facilities managers during COVID-19 from Health Facilities Management 
Surgical services
Evidence-based approach to Perioperative infection control and OR management for COVID-19 from Anesthesia & Analgesia journal 
American Society for Anesthesiologists guidance 
AORN environmental services toolkit
Education and guidelines for cleaning in perioperative services
AORN COVID-19 toolkit 
Infection prevention and supply usage recommendations for perioperative services
Food 
How hospitals can address community food insecurity 
Copia coordinates the donation of food from hospitals to nonprofit food pantries and food banks. Listen to a recording of a Q&A session hosted by Copia to learn how to get started with food rescue and donation at your facility. To get started contact Kimberly Smith at kimberly@gocopia.com. 
USDA food and nutrition services COVID-19 response resources 
New England regional producers are ready to provide access to fresh, healthy food. Spreadsheet from Farm to Institution New England details what food is available.
Waste
OSHA COVID-19 control and prevention guidance 
Proper management of regulated (red bag) and non-regulated (municipal solid waste) management. 
CDC COVID-19 frequently asked infection prevention and waste management questions 
Stericycle COVID-19 guidance 
Guidance on segregation, packing, and removal of health care waste. 
Health Care waste management: Coronavirus update
The latest information and recommendations on how to address waste management in a coronavirus context from Health Care Without Harm experts.
WHO water, sanitation, hygiene and waste management for COVID-19
Personnel and personnel training
National Institutes of Health COVID-19 training for health care workers
National Center for PTSD managing health care workers' stress associated with COVID-19 outbreak
---
If you have suggested resources for this page, please contact us.
Join Practice Greenhealth
Practice Greenhealth is the health care sector's go-to source for information, tools, data, resources, and expert technical support on sustainability initiatives that help hospitals and health systems meet their health, financial, and community goals.