Sustainability for Healthcare Management
A Leadership Imperative
By Carrie R. Rich, J. Knox Singleton, Seema S. Wadhwa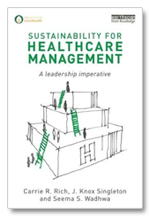 Sustainability is not unique to health, but is a unique vehicle for promoting healthy values. This book challenges health care leaders to think through the implications of our decisions from fiscal, societal and environmental perspectives. It links health values with sustainability drivers in order to enlighten leadership about the value of sustainability as we move toward a new paradigm of health. The authors explore leadership priorities and link them to sustainability, through an imaginary health leader, Fred, the Chief Executive Officer (CEO) of Memorial Hospital, a community hospital based in the United States. Each chapter frames a leadership priority and accompanying sustainability driver through a storyline that involves the main character, Fred, and his colleagues.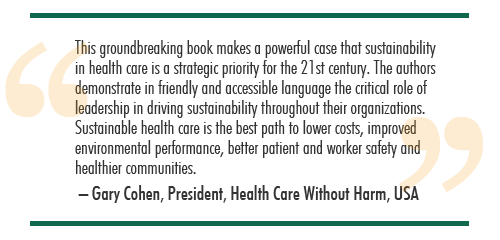 Practical applications featuring evidence-based sustainability accomplishments and the coordinating reflections of renowned healthcare leaders are woven throughout the book. Every chapter includes leadership tools, illustrations and tables with tips and data to make an evidence-based case in support of health sustainability. Practical applications enhance each chapter by providing real examples of sustainability accomplishments and reflections from health care leaders bring such examples to life. The book includes a health care sustainability syllabus as well as suggested reading and teaching resources.
By bringing together the key concepts of environmentally sustainable health care operations, this book is a unique resource to researchers, students and professionals working in health and health care management. Readers will also gain an appreciation for translating leadership priorities into sustainability tactics with beneficial operational outcomes.
Cost: $35 per book. Discounts are available for bulk orders.
To order your copy, contact info@practicegreenhealth.org.