Sustainability Benchmark Report
New, tailored analysis on the sustainability trends and emerging issues.
We are excited to share with you a new change to the Benchmark Report. Rather than provide a single report that touches on every topic, starting today, Practice Greenhealth will now release shorter thematic reports regularly throughout the year.
These tailored reports will offer deeper analysis on the sustainability trends and emerging issues that are most important to our members.
The new, streamlined approach also makes it much easier to find and share relevant trends and data points with essential staff across facilities. It also gives us the opportunity to respond to feedback, to hear what trends and emerging issues are front and center for you, and to incorporate them into future reports.
---
The value of sustainability initiatives in surgical suites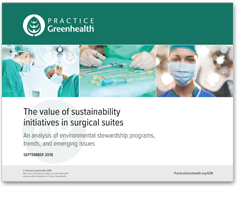 Practice Greenhealth's newest report demonstrates how your hospital can save money – up to $56,000 per operating room annually – while improving environmental and community health.
Leading hospitals are targeting the surgical suite to reduce waste, energy use, greenhouse gas emissions, and supply costs. Those participating in Practice Greenhealth's Environmental Excellence Awards reported combined savings of more than $58.6 million in their ORs last year. Sustainability strategies also helped prevent nearly 13,000 tons of waste from going to the landfill in 2017.
See how your hospital compares with other members, and learn how health care organizations – large and small – are benefiting from instituting our Greening the OR initiatives.
---
Introducing Engaged Leadership and the Value of Sustainable Health Care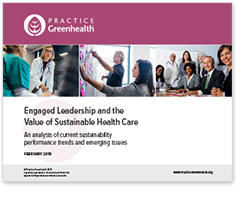 At a time of change and uncertainty, health care sustainability programs can offer a return on investment that clearly aligns with key health care priorities. Last year, individual hospitals saw cost savings up to more than $4 million annually by integrating a myriad of different sustainability initiatives.
Our newest report, Engaged Leadership and the Value of Sustainable Health Care, highlights trends, emerging issues, as well as the strategies and tactics hospitals are using to deliver the most value from sustainability programs.
---
Data, data everywhere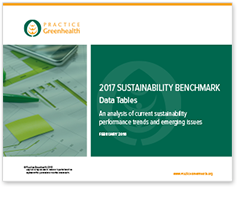 The benchmark data tables, which we are also releasing today, will now live as a standalone resource. The 2017 sustainability benchmark data tables are broken out into 10 distinct benchmarking profiles, covering a range of different components that make up a successful health care environmental stewardship program. This data can assist you in identifying key sustainability program opportunities by benchmarking your program's performance with other Practice Greenhealth members.
---
Access to the complete Benchmark Report is a benefit of membership in Practice Greenhealth.
Members: log in for access to the report.
The Practice Greenhealth Sustainability Benchmark Reports are available for purchase by businesses and other interested parties. For pricing and further details, please contact membership@practicegreenhealth.org.