Sustainability Benchmark Report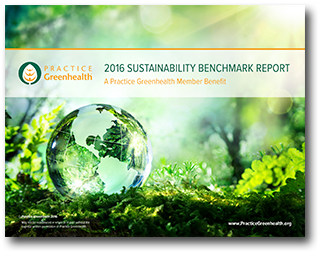 Practice Greenhealth is pleased to announce the release of the 2016 Sustainability Benchmark Report, highlighting health care sustainability trends and emerging areas of focus.
Members: log in for access to the report.
The 2016 Sustainability Benchmark Report by a total of 322 hospitals that participated in Practice Greenhealth's 2016 Environmental Excellence Awards.
The Benchmark Report is the only report that shows comprehensive data illustrating the progress of sustainability across the health care sector. The report analyzes data provided by health care facilities of various types and sizes located across the country. In addition to reporting out on metrics, the report shares sustainability trends and emerging areas of focus.
Access to the complete Benchmark Report is a benefit of membership in Practice Greenhealth.
The 2016 Practice Greenhealth Sustainability Benchmark Report is available for purchase by businesses and other interested parties. For pricing and further details, please contact Peggy Rademaker, Membership Operations Manager, at prademaker@practicegreenhealth.org.