Hospital highlight: UW Health
Anesthetic gas toolkit
Description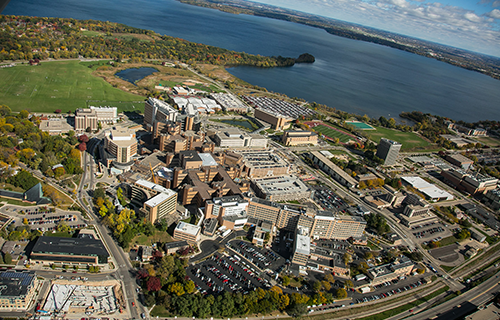 (Anesthetic gas toolkit) Check out the engagement strategy UW Health developed to reduce GHG emissions from anesthesia and save more than $240k annually. 
Resources
Member Content
UW Health - University Health and American Family Children's Hospital
Madison, Wis.
621 beds, 47 ORs
Performing more than 30,000 surgeries each year, clinician champions at University Health and American Family Children's Hospital saw a significant opportunity to reduce environmental impact through education.
Karin Zuegge, MD, Department of Anesthesiology associate chair for education and health medical director for sustainability, championed this initiative at the University of Wisconsin-Madison School of Medicine and Public Health. She presented on grand rounds, developed a website with additional resources and information, and created vaporizer label stickers to remind providers of the environmental impact of their practice. The stickers highlight the global warming potential of sevoflurane, isoflurane, desflurane, and nitrous oxide and offer links to FDA-recommended flow rates, as well as a QRC code providers can scan with their smartphones for more information.
By conducting education and providing information, UW Health saved more than $20,000 a month by reducing desflurane use. They also calculated their emissions per case, going from 91.67 to 56.32 kg/CO2 per case. This adds up to more than 4 million kg of CO2 annually, or the equivalent of taking 875 cars off the road for one year.
In addition to education, UW Health purchased new anesthesia machines that automatically recommend low-flow modes and environmentally friendly maintenance runs to reduce the amount of wasted anesthetic gases.
Join Practice Greenhealth
Practice Greenhealth is the health care sector's go-to source for information, tools, data, resources, and expert technical support on sustainability initiatives that help hospitals and health systems meet their health, financial, and community goals.