Practice Greenhealth visits HCA Healthcare
Published: 10/16/2018 - 15:26
Feature Image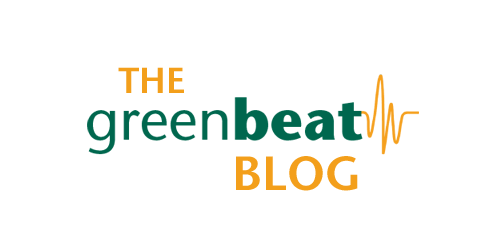 Body
By Janet Howard, Practice Greenhealth member engagement manager
Headquartered in vibrant Nashville, Tenn., HCA Healthcare (HCA) has more than 170 hospitals across the country and approximately 1,800 sites of care, including surgery centers, freestanding ERs, urgent care centers, and physician clinics. A member of Practice Greenhealth since 2009 and a founding sponsor of the Greening the OR Initiative, HCA's environmental stewardship programming is framed around the importance of building healthier communities. Each of its hospitals has a sustainability lead, and many HCA hospitals have won Practice Greenhealth Environmental Excellence Awards over the years.
Mary Panks-Holmes, Practice Greenhealth director of marketing and development, and I spent the day at HCA Healthcare's corporate headquarters in April. The visit was coordinated by Anna Ward, director of sustainability, and gave us a lens into the company, its culture, and its environmental practices – from site operators to the clinical staff.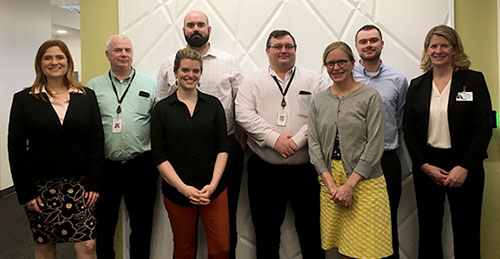 Anna Ward, HCA Healthcare's director of sustainability, and engineers supporting HCA Healthcare's Energy Service Center met with Practice Greenhealth's Mary Panks-Holmes and Janet Howard.
Accompanying Anna to departmental visits and in-person meetings informed us of current engagement activities. It was exciting to see the team approach in their work across the large organization. We also took part in their brainstorming of new or enhanced sustainability opportunities within the organization. Our meetings began with the four sustainability task force chairs who take part in HCA's Sustainability Steering Committee meetings: environmentally preferable purchasing, construction and major renovation, energy and water, and waste. We also met with HR, clinical services, communications, outpatient facilities, and the energy service center, where HCA Healthcare teams have a close view of patient care sites and their respective energy systems. Through a combination of data and the team's experience, the energy service center's infrastructure solutions allow the company to hone in on certain equipment, ensure systems are functioning well, identify issues, and adjust energy performance to maintain efficiencies. It was amazing to see how a large health care organization could focus on energy efficiencies and opportunities for multiple facilities from one location.
Practice Greenhealth presents on calls organized by HCA Healthcare's sustainability team throughout the year for the facility sustainability leads to share best practices and opportunities for progress. Sharing how different sites embark on and succeed in comprehensive environmental improvement activities – whether it's reducing water use in landscaping, managing pharmaceuticals, or greening the OR – enhances these calls. We look forward to continuing to meet more people and continuously building upon the successes at HCA Healthcare.
With CleanMed coming up in Nashville in May, we are excited to see HCA Healthcare represented in their home town and look forward to connecting with their sustainability team during the conference. We hope you do too. Learn more about HCA Healthcare's sustainability program.
Join Practice Greenhealth
Practice Greenhealth is the health care sector's go-to source for information, tools, data, resources, and expert technical support on sustainability initiatives that help hospitals and health systems meet their health, financial, and community goals.