April Galarza
Job Title

Communications Manager
Photo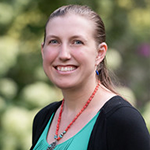 Bio
April is awed by the power of storytelling to inspire action. Sharing hospital successes, quotes, and photos that capture the moment shows what is possible and amazing about our work. Thanks to her background in creative writing, journalism, and environmental communications, your stories are her beat. April gets her endless joie de vivre from her family, her pup, farm-to-table cooking, her cozy wood stove, bicycles, and sci-fi novels.
Join Practice Greenhealth
Practice Greenhealth is the health care sector's go-to source for information, tools, data, resources, and expert technical support on sustainability initiatives that help hospitals and health systems meet their health, financial, and community goals.