Welcoming clinician leaders to CleanMed
Published: 04/04/2022 - 16:02
Feature Image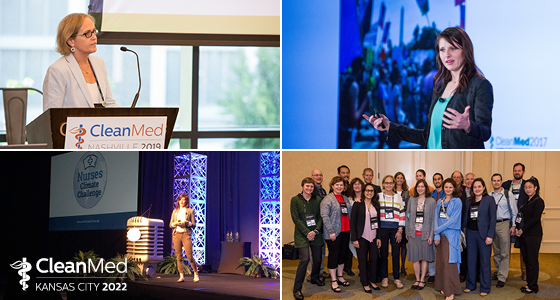 Body
Calling all doctors, nurses, and other health professionals – you are invited to the annual CleanMed conference in Kansas City May 10-12, 2022. CleanMed is the premier national conference for leaders in health care sustainability and the only conference that connects you with the clinician sustainability community and the broader health care sustainability network.
Join us at CleanMed 2022 for education, connection, and inspiration
While the past few years have presented challenges for the health care sector, we are ready to come together and build on one another's successes, share best practices, and provide you with the tools and strategies you need to implement impactful sustainability programs within your organization.
Attend CleanMed to:
Become part of the movement to decarbonize health care – Hear directly from current health and sustainability professionals about how their organizations are leveraging the sector's strength, influence, and trusted voice to lead on climate action. With clinical care as a significant driver of greenhouse gas emissions, learn how clinicians can take action, engage colleagues, and advocate for sustainability within their organizations. 
Meet your peers – Our network represents 1,400 hospitals and health systems, and we look forward to many of them convening for CleanMed. Network with representatives from hospitals and health care facilities across the country who are leaders in health care sustainability. Make connections and establish relationships that might lead to collaborations. 
Attend sessions hosted by leading experts – from fellow clinicians and other health care sustainability leaders to government and community partners – sharing their unique insights, expertise, and lived experiences in the field of sustainable health care. More than 20 engaging sessions offer opportunities to learn about:

National climate goals and health care's vital role in meeting them
Decarbonization solutions for every corner of health care delivery – from greening the OR to reducing waste in ICUs and inpatient pharmacies to innovative food strategies – that simultaneously improve and expand the quality and effectiveness of patient and community health
Trailblazing organizations appointing physicians and nurses as clinical directors of sustainability
How health care organizations are bringing their technical and clinical expertise to the table to advance climate policy

Hear from peers in clinician-led sessions on a variety of topics including reducing waste in ICUs and inpatient pharmacies, how hospitals and health systems are tackling transportation emissions,  climate-smart anesthesia, data-driven climate action, addressing health disparities through climate action, and sustainability centers as laboratories for innovative climate solutions.
Specialize your skills to meet a growing need – Across the country, health systems are integrating sustainability into their practice, and every one of them needs clinicians with expertise. CleanMed will help you gain the skills and network to become competitive in this area. 
Earn CE credits – Sessions may qualify for credit. 
Forge friendships and aspirations with fellow health care practitioners and sustainability leaders at social gatherings after hours and between sessions.
Join Practice Greenhealth
Practice Greenhealth is the health care sector's go-to source for information, tools, data, resources, and expert technical support on sustainability initiatives that help hospitals and health systems meet their health, financial, and community goals.