Validation, motivation, and reputation: How the Environmental Excellence Awards can strengthen member's sustainability efforts
Published: 11/01/2018 - 16:15
Feature Image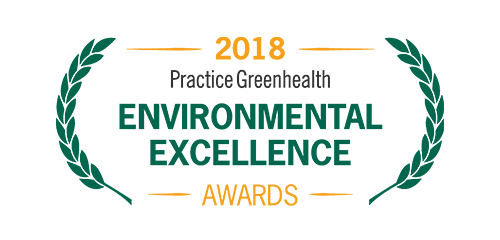 Body
On a recent winter morning, Michael J. Fiore CIH, CSP, director of Environmental Occupational Health and Safety/Sustainability at NorthShore University HealthSystem, sat down with Hermine Levey Weston for a conversation about the value of the Environmental Excellence Awards in advancing their sustainability goals.
---
[Hermine] NorthShore University HealthSystem's past successes include an Emerald and a Top 25 Hospital award. Why do you make the Environmental Excellence Award application a priority for your program?
[Mike] This is a great question and extremely appropriate as I think about how hospitals are scrutinizing every dollar spent, including how these dollars are tied to measurable objectives, and how these objectives integrate into the overall mission and values of the organization. As I look at the Practice Greenhealth award process, there are three main areas of value.
The primary reason is for validation and process improvement. Benchmarking against our Practice Greenhealth peers is consistent with how our health system measures success across our process improvement initiatives. The benchmark data provided validates the work we've done as well as points the way for best practice opportunities.
The second reason is motivation. With all conflicting priorities that happen every day, knowing that your sustainability program is going to be evaluated annually creates accountability at all levels within our organization and encourages active engagement. In addition to the awards, we receive the metric report card and gap analysis after the application is submitted and this information is shared with our green team and ultimately senior leadership. At NSUHS, our approach of continuous improvement demands progress toward measurable goals. We want to know have we continued to improve, raising the bar and moving towards our goals.
The third important priority is the system's reputation- making sure that customers, patients and families, and our community know we are "walking the walk and talking the talk". The NSUHS mission is "to preserve and improve human life" and we understand that this has a direct relationship to population health and similarly everything we do for sustainability. These awards help us share what we do to with the communities we serve and demonstrate that we look outside the hospital walls as we look to provide the best possible health care to our communities.
---
[H] How do you gather your information and data for the application?
[M] It needs to be a truly multidisciplinary team effort, not just from the Environmental Health & Safety or sustainability department. Our commitment is clearly expressed and supported by our executive leadership. The corporate green team assigns responsibility to individuals who enter topic specific information for each hospital. We call the application topics "pillars". For instance, the functional leader for food enters the food data and accomplishments for all four hospitals. There is an expectation and accountability that the functional leader is maintaining this data throughout the year. We then consider the System for Change application as the "executive summary". The goal is to make sure that this application highlights the hospitals as a health system demonstrates our "system-ness" approach to setting and accomplishing goals.
---
[H] With four hospitals and a system application, how do you manage the project?
[M] Deadlines at NSUHS are important! We give people one month to complete the application. The tight timeline helps the functional leaders to focus on the content and data. We then give a shorter window of time before the applications are due to allow myself and other key system leaders time to review the data in each application, ask follow-up questions, and then finally complete the System for Change application using each individual application as a reference.
---
[H] As you work through the questions, do you find opportunities for improvement?
[M] We prioritize opportunities on an annual basis and then design our goals. We don't typically work on "newly realized" opportunities during the application process. Rather, we take the time to consider these opportunities for the following year's goals. We don't want to knee-jerk and ensure we carefully look at the big picture through tools like the Practice Greenhealth gap analysis and benchmark report cards to set goals with the greatest impact and value to the organization to improve. This goes back to our overall process improvement efforts.
For instance, one of our weakest pillars was the greenhouse gas assessment and although important, we prioritized healthy foods at this time for a variety of reasons including having a physician champion and committed food and nutrition leader.
---
[H] What new sustainability efforts are you most proud of for your system?
[M] Our healthy food pillar was an opportunity identified in 2016, so in 2017 we made improvement by purchasing less meat and better meat. We now procure antibiotic- and hormone-free products with poultry and less meat is a system priority. We partnered with a physician champion to get a more plant-based diet. We consider this a multi-year project and we look forward to the analysis of our progress this year.
---
[H] What advice do you have for someone who is considering applying for the first time?
[M] Look at the application like it's a pie, with each piece of the pie assigned to others in your organization. Don't look at the whole pie or try to eat it at once, it can be overwhelming. Attack one pillar/pie slice at a time. In the end, you just want to make sure that the pieces fit back together again - That is a system approach.
---
Don't be discouraged if you can't answer all the questions. Every year there are questions we can't answer. Don't let that prevent you from applying. And good luck!
Join Practice Greenhealth
Practice Greenhealth is the health care sector's go-to source for information, tools, data, resources, and expert technical support on sustainability initiatives that help hospitals and health systems meet their health, financial, and community goals.