Sustainable procurement insights
Published: 04/21/2022 - 13:31
Feature Image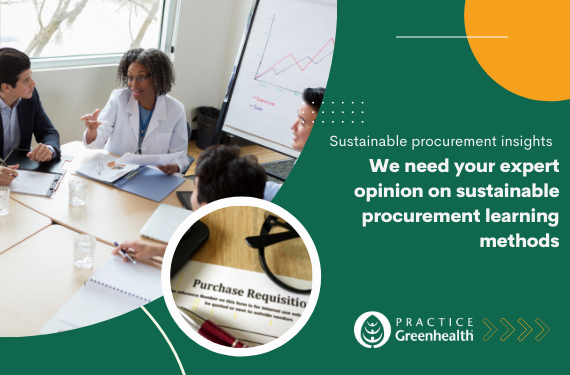 Body
We need opinions from health care procurement and supply chain professionals.
Health care sustainability is changing more quickly than ever before, as are how procurement and supply chain professionals are seeking guidance and learning opportunities.
Whether you are familiar with the work of Health Care Without Harm and Practice Greenhealth or not, we need the input of professionals doing the work to strengthen our goal to drive policies and markets for ethically produced, healthy, sustainable products and services. To that end, we're conducting research on how professionals like you prefer to learn and consume information. 
If you play a role in procurement or supply chain decision-making or would like to invite someone from your hospital or health system who does, we look forward to your feedback by Friday, May 13.
Join Practice Greenhealth
Practice Greenhealth is the health care sector's go-to source for information, tools, data, resources, and expert technical support on sustainability initiatives that help hospitals and health systems meet their health, financial, and community goals.