Santore selected for 2020 leadership award
Published: 08/12/2020 - 09:18
Feature Image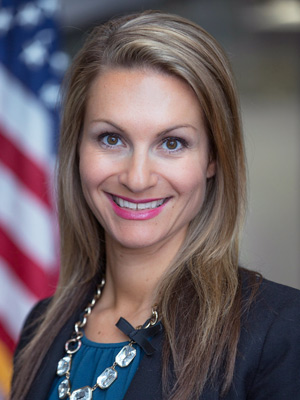 Body
Practice Greenhealth's Visionary Leader Award annually recognizes a senior-level health care executive who has effectively advocated for and woven sustainability and environmental stewardship into health care operations through innovative strategies and mentorship. The 2020 winner of the Visionary Leader Award is Alison Santore. 
Santore is an influential leader and tireless advocate for the poor and vulnerable. As Providence's senior vice president of government affairs and social responsibility, she is a strong supporter of underserved communities. She leads this work within Providence's system of 120,000 workers, 51 hospitals, 1,085 clinics, and a comprehensive range of services across seven states.
Providence has prioritized environmental progress throughout its advocacy agenda.
"At Providence, we know that to achieve our vision of Health for a Better World, we must extend our healing beyond the walls of our ministries and partner facilities, into the world around us," Santore says. "Environmental stewardship is essential to improving the health and equity of our caregivers, patients, and communities. We understand that healthy people require a healthy planet." 
She continuously works to ensure decision-makers understand the relationships among policy, environmental health, and the well-being of poor and vulnerable populations.
"Ali proposed an entirely new framework for advancing environmental and social concerns across Providence," says Beth Schenk, Providence's executive director of environmental stewardship. "In doing so, she has incorporated leaders in various roles across the health system to shape and drive the vision of social responsibility, align on guiding principles, integrate across functional areas, and guide it toward local, national, and global leadership. The work provides a unique, mission-forward lens through which environmental stewardship decisions are made."
At the helm of environmental stewardship in Providence, Santore has focused on metrics and outcomes while ensuring cohesion across the organization. She has mobilized diverse groups of people, weaving together numerous perspectives and unifying multiple roles in a large, complex health system.
Since 2017, she has served on Health Care Without Harm's Health Care Climate Council and has been one of its strongest advocates. Santore was also pivotal in bringing Providence into the California Healthcare Climate Alliance as a founding health system member. She and her team did the same for the Washington Healthcare Climate Alliance. She has been a strong proponent of Providence's commitment to the We Are Still In campaign, to the Health Care Climate Challenge, and to advocating for climate health. Santore has also been integral in helping Providence craft an industry-leading climate mitigation goal to be carbon negative by 2030. 
Join Practice Greenhealth
Practice Greenhealth is the health care sector's go-to source for information, tools, data, resources, and expert technical support on sustainability initiatives that help hospitals and health systems meet their health, financial, and community goals.