The role of transportation in achieving hospital greenhouse gas reduction goals
Published: 11/01/2018 - 16:15
Feature Image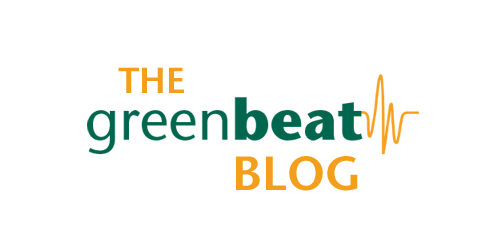 Body
Julie Moyle, MSN, RN, outreach and engagement specialist
If your sustainability priorities don't include a transportation program and strategies to reduce transportation-related emissions, you are missing a big opportunity to reduce greenhouse gas emissions (GHG). According to the Environmental Protection Agency, transportation as a sector is the fastest growing source of worldwide carbon pollution, and contributes 27 percent of annual U.S. GHGs, exceeded only by energy production/consumption, which comprises 29 percent of annual U.S. GHGs.
Coming soon: Transportation Goal and Toolkit
Get started guide
Transportation goals for employee commute, fleet vehicles, and supply chain
Employee commute survey and template
Transportation checklist of strategies
Transportation case studies
Slide deck with script for your use
Practice Greenhealth member policies, documents, posters, and flyers
Educational archives: webinars, sharing calls, CleanMed sessions
Practice Greenhealth is gearing up for the release of its Transportation Goal and Toolkit, which walks hospitals and health systems through proven strategies to measure and reduce greenhouse gas emissions associated with transportation. As major community employers, hospitals are in a position to scale the health, financial, and environmental benefits of transportation by offering alternatives to driving alone to work and working with business partners to reduce the impacts of material distribution and service provision. Hospitals can also reduce transportation-related emissions by purchasing or leasing low- or zero-emission fleet vehicles and technologies, implementing idle-reduction technologies and practices on their campuses, and incorporating EPA SmartWay partnership status and idle-reduction specifications into vendor selection criteria.
What's in it for hospitals? Just ask Seattle Children's Hospital, whose No. 1 admission is pediatric asthma. In addition to aligning transportation work with their organizational mission, the hospital avoided the construction of a $25 million parking structure, strengthened community relationships and engaged their workforce by incentivizing alternative commuting practices. The hospital reduced its employee single occupancy vehicle rate from 73 percent in 1995 to 38 percent in 2015, earning credibility as a good neighbor and reinforcing its image as a responsible environmental steward.
Inova Health, a not-for-profit health care system based in Northern Virginia, worked with its business partner MedSpeed to optimize lab specimen courier services, eliminating over 1,400 extra miles driven per week, saving an estimated $105,000 a year in fuel costs.
And why not leverage the $200 billion (17.6 percent of GDP) health care facilities spend on medical supplies and products to encourage business partners to do the same? Understanding how distributors and freight haulers move hospital materials can lead to cost-saving opportunities with a transition to efficient transportation practices. The EPA SmartWay program helps suppliers adopt advanced fuel-efficient technologies and operational practices in the freight supply chain, which saves fuel, lowers costs, and reduces adverse environmental impacts.
To get up to speed on the issue and how hospitals are responding to the challenge of transportation, invite your key stakeholders to the following calls:
3 p.m. EST Wednesday, Aug. 23:  The Future of Transportation in Health Care: A Conversation with Innovative Transportation Thought Leaders
3 p.m. EST Wednesday, Aug. 30: Data 101 Series: Transportation - Goals, Metrics & Toolkit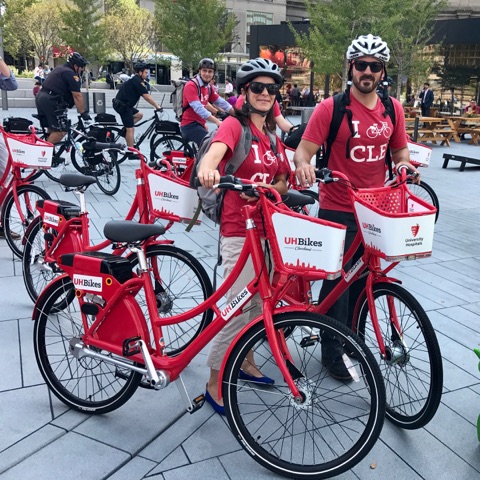 Sarah O'Keefe and Matt Pietro of University Hospitals Office of Sustainability help roll out the UH Bike Sharing program. Photo by University Hospitals.  
Join Practice Greenhealth
Practice Greenhealth is the health care sector's go-to source for information, tools, data, resources, and expert technical support on sustainability initiatives that help hospitals and health systems meet their health, financial, and community goals.