Rochester Regional Health recognized for climate innovations
Published: 01/17/2019 - 11:39
Feature Image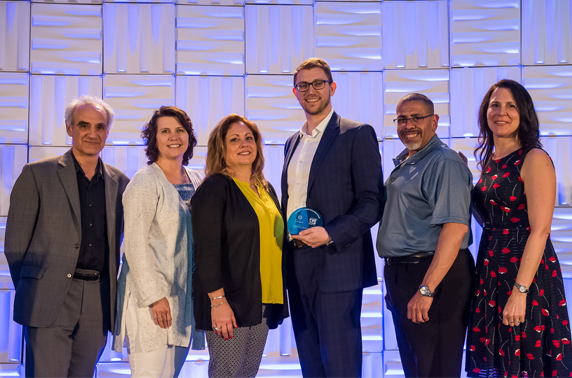 Body
In 2018, Practice Greenhealth member Rochester Regional Health was selected as the inaugural winner of the Climate and Health Innovation Award, which recognizes a hospital or health system for innovative work addressing the health impacts of climate change.
Rochester Regional Health was chosen not only for their ambitious goal of transitioning to 100 percent clean electricity systemwide in under a decade, but also for their leadership in communicating that commitment to their patients and community.
"To keep the members of our community as healthy as possible, we must also do our part to reduce pollution and combat climate change," wrote Eric Bieber, M.D., president and CEO.
Rochester Regional Health hired their first sustainability director to create a program in 2016 and, by the end of 2017, became the first health system to publicly announce a 100 percent renewable electricity goal by 2025. At the time of the award presentation in May 2018, they had already installed a 500-kilowatt solar array at system headquarters and were working to bring other projects online.
"At Rochester Regional Health, we were excited and proud to receive the Climate and Health Innovation Award as affirmation of the work we are doing for our community and the planet at large," said Michael Waller, director of sustainability. "However, we are even more excited to know that more of our contemporaries in the health care field are starting to announce and pursue their own ambitious renewable energy goals. Together, we can make the world a better, healthier place for everyone."
In recognition of their climate leadership, the Health Care Climate Council also invited Rochester Regional to join the leadership body made up of 19 health systems committed to protecting their patients and employees from the health impacts of climate change and becoming anchors for resilient communities. In October, Rochester Regional Health became the newest member of the council and the only member based in the state of New York.
Less than a year after receiving the award, Rochester Regional is making tremendous progress. In December they announced the completion of a 5.5 megawatt solar array in partnership with the NY-Sun initiative, which will power more than 100 of their facilities. This is the second largest solar project in New York state and is equivalent to taking more than 1,000 vehicles off the road each year.
The Climate and Health Innovation Award recognizes a hospital or health system for innovative work addressing the health impacts of climate change. The work can be a project, program, or process related to 1) reducing the hospital or supply chain carbon footprint, 2) improving infrastructure or community resilience, or 3) a communications, advocacy, or education initiative.
Has your hospital or health system been working on an innovative climate solution? The application for this year's Climate and Health Innovation award is now open. Applications will be evaluated based on the following criteria:
Demonstration of innovation and benefit of activity

Measurable results or actions (e.g. reduction in greenhouse gas emissions, number of employees doing activity)

Ability to be replicated by others, including commitment by the hospital to share lessons learned
The Health Care Climate Council is looking for the next hospital or health system that is helping to forge the path and lead the way to a climate-smart health care sector.
Join Practice Greenhealth
Practice Greenhealth is the health care sector's go-to source for information, tools, data, resources, and expert technical support on sustainability initiatives that help hospitals and health systems meet their health, financial, and community goals.