On the Road with Practice Greenhealth: June 2017 Greenbeat
Published: 11/01/2018 - 16:15
Feature Image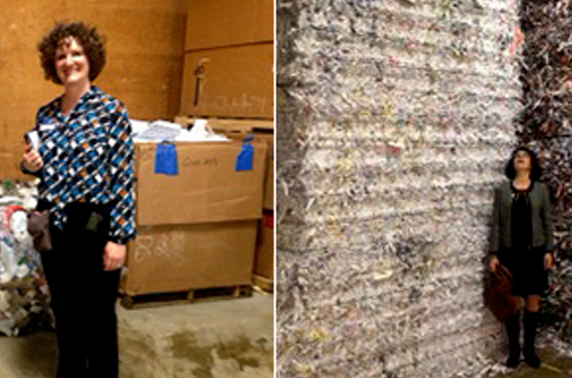 Body
The Mayo Clinic in Rochester MN. Welcomed Hermine Levey Weston
By Hermine Levey Weston, RN MBA
My father, an oral surgeon, was what we nurses referred to as a "tough patient." When hospitalized, I saw more than one surgical or anesthesia resident slink from his room when he demanded the "attending" physician.  He complained about the food and being left alone for hours without medical or nursing attention. My mother and I did a whole lot of hand holding, eye rolling, and apologizing to his care givers.
He had a nasty kidney infection in his late eighties and he was cared for at the Mayo Clinic in Rochester Minnesota when his local team couldn't meet his demands. His experience there was so positive; his kidney infection was cured and he was treated like a VIP. From then on, he traveled to "The Mayo" for primary care and claimed that "The Mayo" had saved his life. I work with 'The Mayo" and honor my father with each interaction.

On my way to CleanMed in Minneapolis this year, I was delighted to visit and tour The Mayo Clinic in Rochester Minnesota with Amanda Holloway as my guide. Glen Goodsell, the Mayo Recycling Coordinator, wowed me at the recycling center where all recyclable items from all their buildings are trucked, sorted and processed for sale. I toured their medical waste facility and their beautiful wellness center. Even though I was there as a sustainability professional, I was particularly thankful for the "value" tour at their St. Marys Hospital. I visited patient rooms and the common areas for reflection and prayer. We spoke with a patient's family member in the chapel and I definitely related to her story about the wonderful care her loved one had received. I think my father, may his memory be a blessing, was nodding in agreement as I left "The Mayo" and made my way to CleanMed 2017.
The Minneapolis VA Health Care System
 By Kaeleigh Sheehan
There's always a flurry of activity and a buzz of excitement leading right up to CleanMed for Practice Greenhealth staff - last minute conference prep, meetings scheduled, and details nailed down for (what feels like) a great retreat for healthcare sustainability leaders.  As the Member Engagement Liaison for the VA, I've worked with many of the GEMS Managers at VA facilities across the country, so in addition to the usual pre-CleanMed excitement, I was also really looking forward to the opportunity to visit the Minneapolis VA Health Care System in person, and boy, it did not disappoint.

From the moment I walked into the beautiful, light filled "Hall of Flags" atrium, I felt such care and kindness from staff, volunteers, visitors and patients. George Johnson, Jane Dirnberger, April Eilers, Jackie Leveille, Steven Waisbren, Kristen Bastug, Wanda Teply, and many other members of the MVAHCS team took time out of their day to show me around their facility, talk about their work, and made it such a wonderful experience.  The Minneapolis VA won several awards this year, including Top 25 and Greening the OR Circle of Excellence; mentored other VA facilities on the Practice Greenhealth Environmental Excellence Awards program; produced a Greening the OR and Why We Do What We Do: Caring for Our Veterans video; and also pulled together a panel on their Greening the OR program at CleanMed (make sure to check Greenhealth Academy for the recording!).  
As a system, the VA did a remarkable job this year - submitting 144 award applications.  Although every VA facility may be unique, their programs to 'protect the environment while serving those who served' are incredible.
Memorial Day may have just passed - but here,for those who served, and for those who continue to serve our country and for those who serve our troops - thank you.
Join Practice Greenhealth
Practice Greenhealth is the health care sector's go-to source for information, tools, data, resources, and expert technical support on sustainability initiatives that help hospitals and health systems meet their health, financial, and community goals.