On the road - and the boardwalk - with HealthPartners
Published: 09/30/2019 - 10:57
Feature Image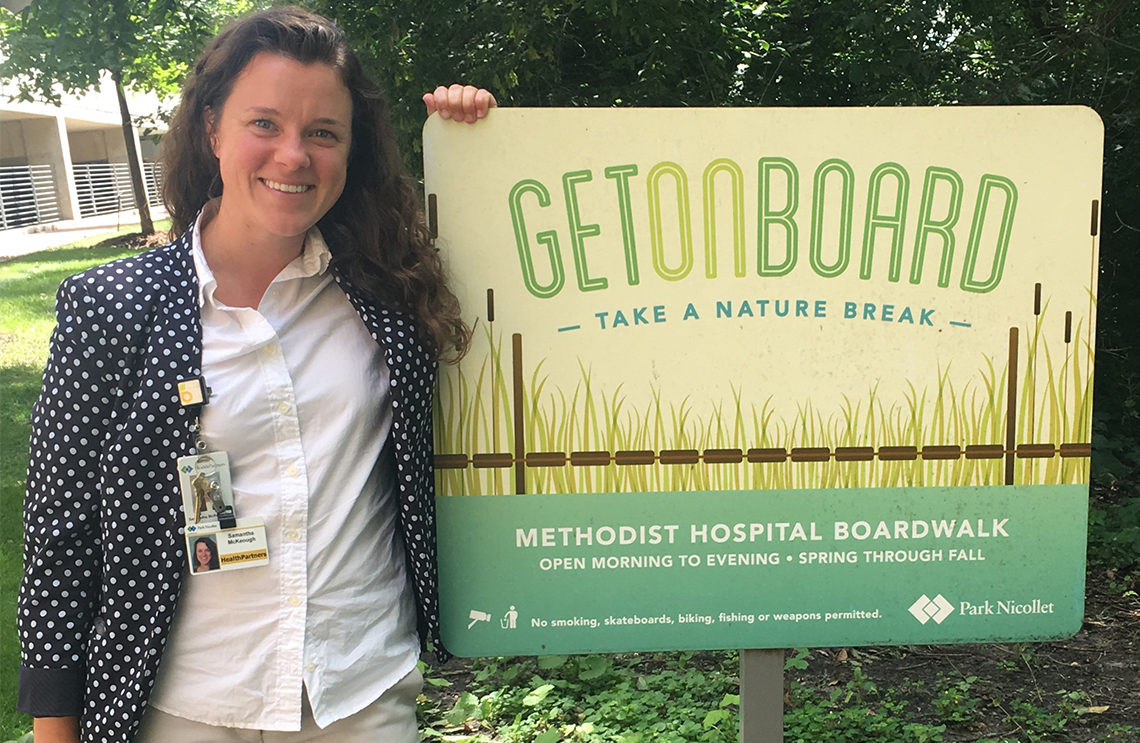 Body
By Shanda Demorest, Practice Greenhealth member engagement manager
The ask. Long before I joined Practice Greenhealth in May 2019, Karoline Sperling at Park Nicollet Methodist Hospital in St. Louis Park, Minn., heard I was a nurse looking to talk about climate change with whomever I could. Fast-forward several months to August, when we reconnected around the ask, which had blossomed to speak about environmental sustainability in health care, the health impacts of climate change, and what people in the infection prevention specialty can do about it. Complex indeed. Fortunately, this presentation invitation was from Methodist Hospital, a national leader in environmental sustainability with 2019 Practice Greenhealth Environmental Excellence Awards ranging from Top 25 in the country, Circles of Excellence in Leadership and Less Waste, as well as a contributor to the System for Change Award for HealthPartners. They were already well-versed and were looking for more. I suited up and made the short jaunt to the southern Minneapolis suburb.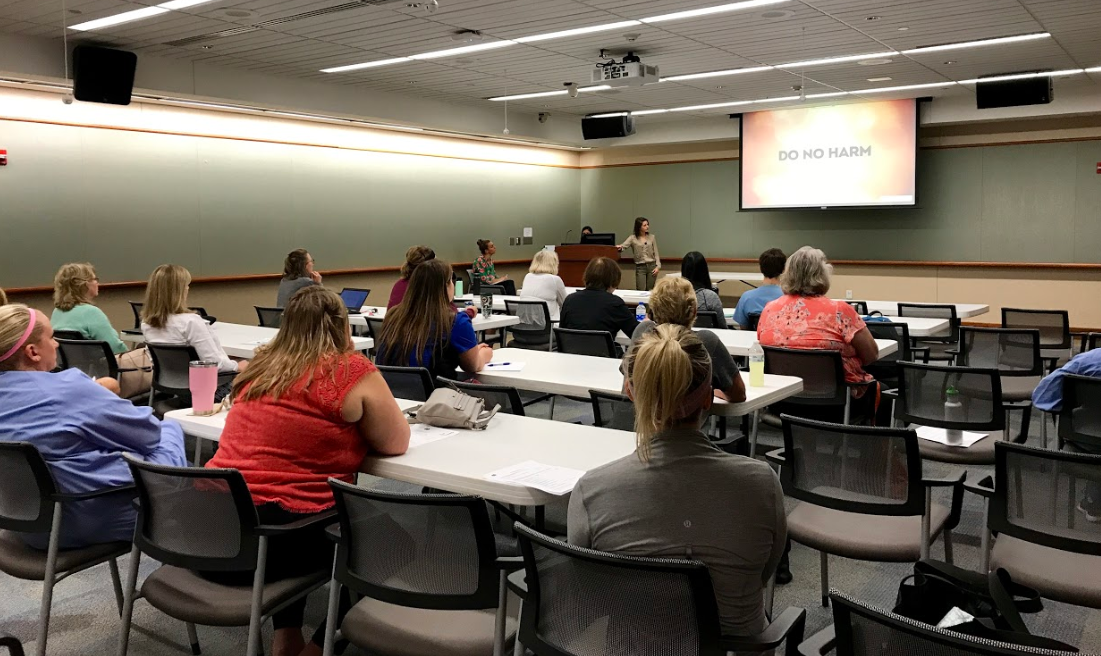 The setting. A conference room filled with nurses, facilities specialists, a sustainability consultant, and others –  some of whom had participated in the hospital's green team at one time or another.
The pitch. First, we talked climate science, using slides from the Nurses Climate Challenge that demonstrate the direct relationship between increasing parts per million of carbon dioxide in the atmosphere and global warming. Then we talked human health impacts of climate change, highlighting severe weather, extreme heat, air pollution, and vector-borne disease as summarized by the American Public Health Association. Next, we talked health care, and how our industry contributes to an enormous climate footprint. Daunting enough? Not yet - so we dug into the sticky wicket of balancing patient safety and infection prevention with resource mindfulness.
The challenge. One audience member asked, "Is it even possible to promote sustainability as infection prevention specialists?"  Or, "Why doesn't The Joint Commission include sustainability in their regulatory requirements?" asked another. And even trickier, "How can we focus on sustainability when we are responsible for rolling out USP 800?" (new national regulations requiring increased system-wide changes in hazardous waste handling). 
At that point, Ms. Sperling backed me up as I struggled to deliver a silver bullet –  which, of course, there is none. "The point of inviting Shanda today," she started, "was to draw attention to how complex, systemic, and challenging these issues are." Whew - she saved me. There it was, right in front of us. Like many things in life, the answer is that there is no answer. 
The resolution. I'd be lying if I said that Ms. Sperling or HealthPartners' sustainability leaders expected me to enlighten their meeting attendees that day and provide slick solutions to the increasingly complex world of environmental sustainability in health care – nor was that my objective. I do think, though, that some of the content delivered that day sparked conversation around the challenges we face as professionals committed to not only patient health – but to planetary health as well. We may not have all-encompassing solutions, but we have the tools of partnerships, intellect, and compassion in place to find solutions.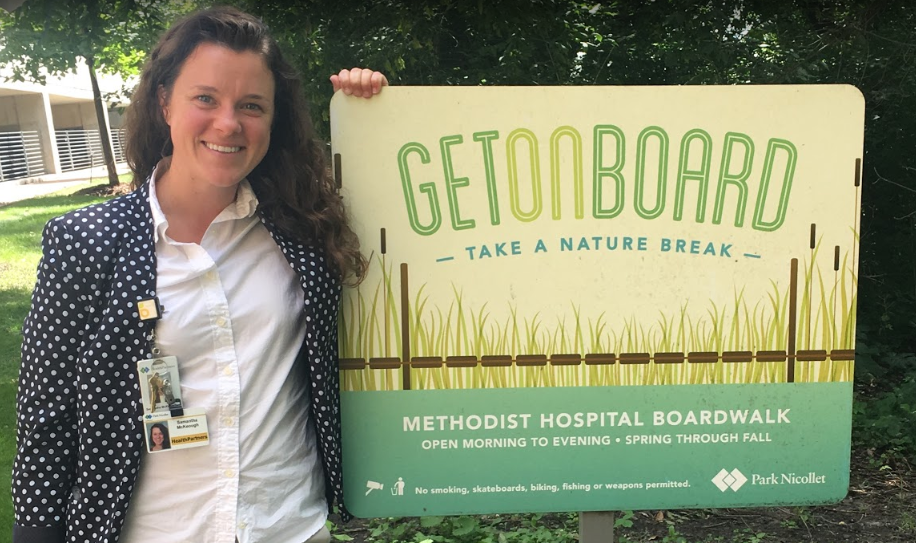 The encore. After Karoline Sperling and I parted ways, I was whisked away by Samantha McKeough, HealthPartners sustainability consultant, to the boardwalk behind Methodist Hospital that winds through the marsh by the Minnehaha Creek. On the boardwalk, Ms. McKeough shared more about the HealthPartners story and her vision for the Sustainability Department's future with me. 
"We're working to develop our next set of 5-year goals within our strategic plan to take our program to the next level of leadership in health care sustainability. In the meantime, we are continuing to educate employees and the community about the health effects of climate change, and we aim to influence other health care systems to do the same." noted McKeough. 
Like our stroll on the boardwalk, the future she conveyed was fresh, and it was bright.
Join Practice Greenhealth
Practice Greenhealth is the health care sector's go-to source for information, tools, data, resources, and expert technical support on sustainability initiatives that help hospitals and health systems meet their health, financial, and community goals.