Practice Greenhealth Honors Environmental Excellence Awards Winners
Published: 11/01/2018 - 16:15
Feature Image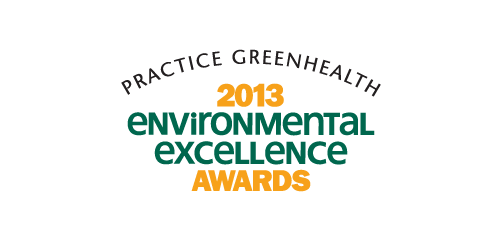 Body

2013  Award Winners Announced 
(Reston, Va.)— Practice Greenhealth, the nation's leading membership association devoted to environmentally responsible health care, has announced its 2013 Environmental Excellence Award winners.  These coveted Awards are given to institutions within the health care sector for outstanding programs to reduce the facility's environmental footprint.
Harborview Medical Center, Kaiser Permanente Roseville Medical Center, and Spectrum Health Blodgett Hospital were acknowledged with Practice Greenhealth's highest award by being admitted to the Environmental LeadershipCircle, which honors facilities that exemplify environmental excellence and are setting the highest standards for environmental practices in health care.
"Practice Greenhealth Award winners demonstrate that the health of their patients, staff and community is central to the core of their mission," said Practice Greenhealth Executive Director Laura Wenger. "These Award winners have a vision that all health care organizations should strive for in the future."
Eleven health care systems won the Systems for Change Award, presented to health systems for significant progress in system-wide implementation of environmentally responsible health care. These systems include: Advocate Health Care, Bon Secours Health System, Inc., Cleveland Clinic Health System, Covenant Health Systems, Dignity Health, Fairview Health Services, Hospital Sisters Heath System, Inova Health System, Kaiser Permanente, Spectrum Health System, and University Hospitals.
Practice Greenhealth honored its top performers at the Environmental Excellence Awards Friday evening in Boston, Mass., at an awards presentation and gala dinner ceremony during CleanMed, the premier global conference on environmentally sustainable health care.  In honor of each of the 320 Award winners, and to celebrate the recently signed global mercury-free treaty, Practice Greenhealth has partnered with Health Care Without Harm to sponsor the donation of mercury-free thermometers and sphygmomanometers to two hospitals in Guatemala.
A full list of Practice Greenhealth Award Winners is listed on the website here.
About Practice Greenhealth
Practice Greenhealth is the nation's leading membership and networking organization for institutions in the health care community that have made a commitment to sustainable, eco-friendly practices. Members include hospitals, health care systems, businesses, Group Purchasing Organizations, community health centers and other stakeholders engaged in the greening of health care to improve the health of patients, staff and the environment. For more information on Practice Greenhealth, visit www.practicegreenhealth.org. 
Join Practice Greenhealth
Practice Greenhealth is the health care sector's go-to source for information, tools, data, resources, and expert technical support on sustainability initiatives that help hospitals and health systems meet their health, financial, and community goals.