Practice Greenhealth highlights members' progress during national energy efficiency event
Published: 02/28/2019 - 10:32
Feature Image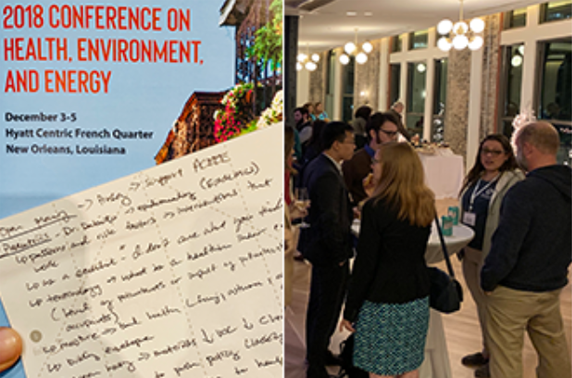 Body
New Orleans is known for festivals and food. It is also known for a complicated recovery from Hurricane Katrina. At the time of the infamous storm's landfall, there was one local LEED building. Fourteen years later, more than 1,000 stand in the city. While progress can be measured by the increased number of green buildings, the resilience of its people echoed a warning that fell silent to the public; climate change is real and we must address it in design and construction and ensure the built environment is compatible with the turbulency of the natural environment.
In the heart of New Orleans, speakers from renowned architecture and engineering firms, the Department of Energy, physicians, and other leaders reiterated a continued sense of urgency and collaboration in mitigating climate change through energy and health at the American Council for Energy Efficient Economies' Conference on Environment, Health and Energy in December 2018.
I was honored to join Kara Brooks from the American Society for Healthcare Engineers on the event's panel "Hospitals and Healthcare Partnerships." My content during this presentation focused on four Practice Greenhealth members. I highlighted:
Gundersen Health's climate change mitigation through energy efficiency by generating more energy than needed in 2014,
an impressive desflurane elimination effort from UW Health, which amounted to 4 million kg of CO2,
the use of the Energy Impact Calculator to emphasize human health impact from energy savings by Geisinger Health, and
how Ascension Health met the Department of Energy's Better Buildings Challenge four years ahead of schedule while saving over 1 million tons of CO2 across 141 hospitals.
I thoroughly enjoyed celebrating these successes and sharing our members' stories with this engaged audience.
During this three-day conference, I also had the pleasure of meeting Dr. Peggy Seidman, a pediatric anesthesiologist from University Hospitals, a Practice Greenhealth member. She and her sister Nancy Siedman, who works on the Regulatory Assistance Project, led a dialogue titled "A Doctor and an Engineer Walk into a Room." Dr. Siedman spoke candidly about sustainability of people and clinician burnout while praising the VA for their electronic health records. The two outlined how the built environment ought to be designed carefully with human health as a focal point. I later had the chance to exchange ideas on Greening the OR with Dr. Siedman at a networking event, and she was more than familiar with Practice Greenhealth's desflurane elimination work.
Another highlight was hearing Eric Werling, a Building America program coordinator with the Department of Energy, share his environmental journey after serving in the military. Through internal and external collaborations, he developed the Indoor AirPlus program for homes in 2009, resulting in more than 50,000 homes meeting criteria that includes human health elements. I learned how the 10,000 monitoring stations collecting data on air quality are managed by a small dedicated team at the EPA who also developed a mobile app which lets runners check the conditions in their area before lacing up.
It is refreshing to attend these events and represent our members. I came back with a renewed charge for 2019 as the Environmental Excellence awards season is in full swing. I know we will have many more to success stories to celebrate this year.
From left to right: Iqbal Mian scribbles notes during the opening plenary,
the networking event allowed participants to enjoy diverse food and conversations,
Iqbal Mian and Kara Brooks pose for a photo after presenting on hospitals and
health care partnerships.
Join Practice Greenhealth
Practice Greenhealth is the health care sector's go-to source for information, tools, data, resources, and expert technical support on sustainability initiatives that help hospitals and health systems meet their health, financial, and community goals.