The Power of Visioning and Goal Setting
Published: 11/01/2018 - 16:15
Feature Image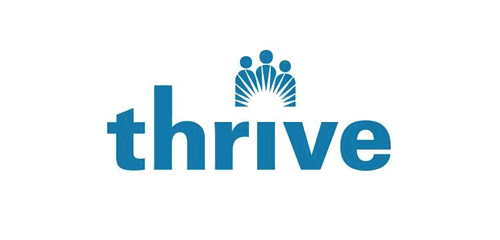 Body
Kathy Gerwig presented Kaiser Permanente's Bold Goals for improved environmental performance in a Practice Greenhealth March 2016 webinar entitled "THRIVE – Setting Bold Goals at Kaiser Permanente." Kaiser Permanente's goals are team goals – with team responsibility. They don't rest on the shoulders of any one person. They put the goals out there and then work together to achieve them. That feels right to me. To not over think it.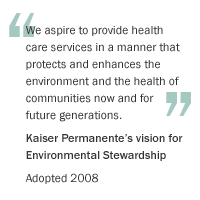 But it's not just goal setting, Kaiser Permanente frames up their commitment with vision statements. The vision is followed by a goal which is made actionable and tracked with data. Kathy explained that the vision statement helps the team push through obstacles – it reminds them what they are setting out to achieve. They created an overall environmental stewardship vision statement and additional vision statements for each area of focus: climate and energy, safer chemicals, waste reduction, water conservation and sustainable food. They see environmental stewardship as their commitment to total health. They report their updates in their community benefit report.
Kaiser Permanente has met or exceeded most of their goals earlier than expected and fallen just short in one. It adds up to momentous progress and movement in the right direction.   
Kaiser Permanente's 2015-2020 Environmental Goals
Focus Area

Goal and Results

Energy

30% greenhouse gas reduction by 2020 –  On track to meet in 2017

Water

10% reduction from baseline by 2020 – Achieved in 2015

Safer Chemicals

Avoiding chemicals of concern in many product categories. Banned chemical flame retardants from new furnishings. Advocacy – Early Adoption – Leading Sector

Sustainable Food

20% sustainable food spend by 2015 – exceeded – at 23%

18% meat reduction
$1.8 M a year or 37% of meat and poultry is from animals raised without the routine use of antibiotics.
67% of beverage spend is on healthy beverages per Healthier Hospitals criteria

Waste Reduction

40% diversion from landfill by 2015 – achieved 36%
As Kathy puts it, "Environmental Stewardship is everyone's business." 
Join us at CleanMed in Dallas where we'll hear from Kaiser Permanente's Ray Baxter, PhD, SVP Community Benefit, Research and Health Policy and register now for a follow up Webinar slated for June 6 at 3:00 p.m. EDT when Kathy returns to share Kaiser Permanente's new 2025 environmental stewardship goals.
Practice Greenhealth can help you get there with formal goals, standardized data collection protocol, education and toolkits to help with goal uptake and measured success. The Environmental Excellence Awards act as an assessment tool, a way to tie it all together and get recognition in your community. In 2016 we are rolling out new goals and kits – Less Water, Engaged Leadership (goals 3, 4 and 5) and Less Food Waste. Watch for a new renewable energy goal by year's end. 
Janet Howard, Director, Member Engagement, Healthier Hospitals
Join Practice Greenhealth
Practice Greenhealth is the health care sector's go-to source for information, tools, data, resources, and expert technical support on sustainability initiatives that help hospitals and health systems meet their health, financial, and community goals.