Partner perspective: Spectrum Health (Part 1 of 2)
Published: 09/22/2021 - 11:33
Feature Image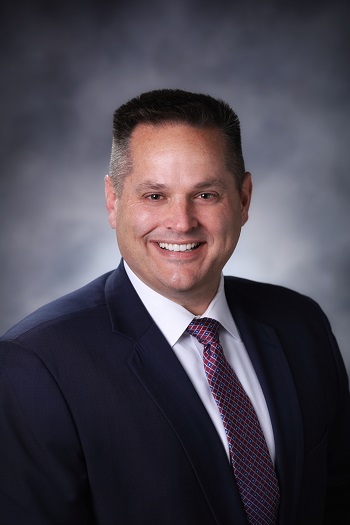 Body
 

Matt Cox

CFO at Spectrum Health

Number of beds: 2,522 beds

Number of FTE: 31,000
---
Part one
Matt Cox has served as Spectrum Health's CFO and the executive sponsor for the system's sustainability program since 2017. In this first of a two-part feature on health care finance leaders and sustainability, Cox shares the role CFOs can play in supporting sustainability efforts and how to get sustainability initiatives on your CFO's radar.
What led you to working in health care?
I grew up on a small, family-owned dairy farm in Idaho, so I knew at a very young age what I didn't want to do. As a child, we milked cows before and after school and on weekends. What I didn't appreciate as a child was the work ethic I was developing and how it was preparing me for my professional career. After studying accounting and business at Westminster College in Salt Lake City, I started my career with Deloitte. I enjoyed working with clients in different industries but really loved working with my health care clients. Ultimately, I went to work for a hospital client, and I have never looked back. Even though I lead finance, I feel very connected to the mission of Spectrum Health to improve health, inspire hope, and save lives. 
How did you become the executive sponsor of Spectrum's sustainability program? 
Our system executive team members are all supportive of sustainability, and I was lucky to have sustainability sponsorship be a part of my responsibilities when I arrived. As the CFO, several of my areas of responsibility, including supply chain services and facilities, have a direct impact on sustainability initiatives.
Why is having an executive sponsor important? 
Having a sustainability champion on the senior team helps to prioritize sustainability at every level in the health system. When leadership is truly invested in sustainability, organizations will achieve measurable sustainability goals and prioritization of investments. 
What role can a CFO play in the success of a sustainability program? 
CFOs typically oversee supply chain, facilities, and capital business plans, all of which must work in unison to implement large- and small-scale environmental investments. I have been able to send a clear message to the facilities department that I will support every environmental investment that has a positive return. Sometimes that direction results in small investments, like converting parking structures to LED lighting, and other times that direction results in significant investments like co-generation plants.
 
Some short-term initiatives focus on greenhouse gas reduction and progress over perfection. Our co-generation is estimated to save 40% carbon emissions and lower our costs. These savings can be reinvested into other types of sustainability projects like onsite solar panel installations.
 
When approaching your CFO, bring forward projects that have a sound business case so they can build them into short- and long-term financial plans. Initiatives that are break-even and positive for the environment are easy for most CFOs to support. We still haven't run out of these types of initiatives, and it seems that we uncover more all the time. Additionally, some ideas that historically were cost-prohibitive won't always be so in the future due to innovation and new technology.
My advice: Don't bring a subpar plan to your CFO. If you have ideas but don't know how to present them, ask for support from the finance department, and they can identify someone to help you or your team create a capital business plan. 
For many sustainability leaders, access to the CFO is limited. What advice would you give sustainability leaders to get on their CFO's radar? 
All CFOs carry the burden of keeping their organizations financially viable. Collaborate with others your CFO trusts, and approach the CFO together with projects that result in cost savings. Then propose some projects that break even. Once a track record has been established, consider bringing game-changer ideas that require significant investment. Many CFOs may personally support environmental initiatives but need your help to validate the benefits.
Watch for part two of this profile in December 2021
Join Practice Greenhealth
Practice Greenhealth is the health care sector's go-to source for information, tools, data, resources, and expert technical support on sustainability initiatives that help hospitals and health systems meet their health, financial, and community goals.