Meet the team: Julie Moyle
Published: 08/28/2019 - 10:30
Feature Image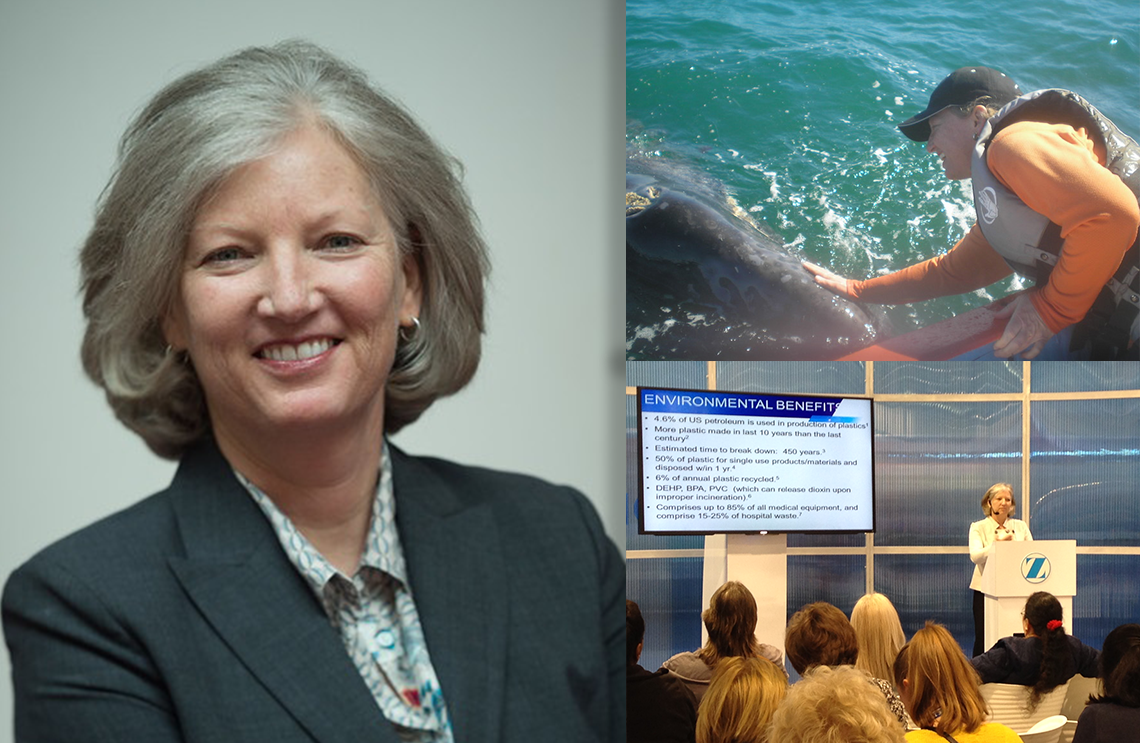 Body
Julie Moyle has served Practice Greenhealth as a member engagement manager since 2015. She lives in Golden, Colo., where she is also an OR nurse. Learn about her proudest moment at Practice Greenhealth, her thoughts on emerging issues in sustainability in health care, and what song makes her squirm.
Share three items of significance in your home office.
A piece of petrified wood (a gift) that keeps my computer cord from slipping behind the desk when I unplug, and that helps me keep things in perspective. A small, polished hand-carved turtle that's fun to handle and reminds me that slow and steady wins the day. And a framed childhood prayer to avoid getting chicken pox so I could go to summer camp. It reminds me that some prayers are answered and to keep the faith.  
What is your proudest moment working for Practice Greenhealth?
My proudest moment to date has been the launch of the Practice Greenhealth transportation toolkit in 2017. As a nurse, I didn't know much about transportation management, so over a two-year period, I educated myself on transportation in health care, and with the help of a team of content experts, pulled together resources, recommended practices, and a step-by-step guide on reducing hospital-related transportation impacts. It's written in such a way that even a nurse can do it, and it works!
St. John's Medical Center in Jackson, Wyoming, used the toolkit and was wildly successful in lowering their seasonal drive-alone rate in 2018 from 60% to 42%.  Employees were thrilled (they received $5 a day not to drive alone to work), patients and visitors could find parking, leadership was happy, and now they're considering extending the program year round.
What is your favorite photo of yourself or someone you love and what's happening in it?
It is the moment of exhilaration that was captured when I touched a gray whale calf in the wild. What I couldn't get over was the sense of forgiveness in the submarine of a mom nearby, allowing her calf to engage with human beings in the same type of whaling boats that were used to hunt them to near extinction.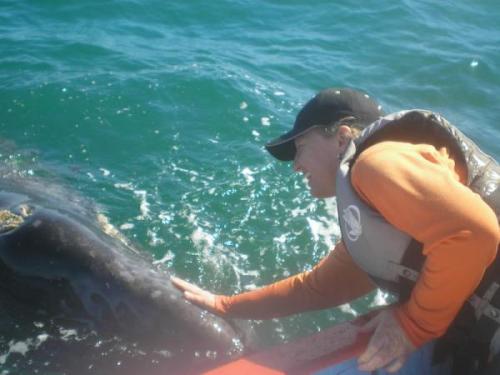 What song can you not stop listening to?
Whenever I hear Stevie Ray Vaughn's "Couldn't Stand the Weather," whatever I'm doing comes to a stop. I am at first transfixed as I try to follow the driving beat of the drum and bass guitar through the halting pauses, stops, and starts. But when that opening riff of the lead guitar comes in, it feels like I'm going over the falls and into the washing machine, to  use a surfing analogy. The wild ride of octaves, rhythms, and notes expressed in moments and in ways make me squirm. 
What emerging issues do you see in sustainability in health care?
I am currently reviewing literature on this topic. Here are some initial takeaways:
Responding to the climate crisis requires courageous, transformative leaders at the executive and governing-body levels who can help hospitals incorporate the social and environmental bottom lines into existing economic frameworks.
While additional resources and education are needed to effectively manage the multiple, various waste and diversion streams of health care, identifying opportunities upstream to reduce waste downstream will be a treasure hunt of triple bottom line gold nugget opportunities: eliminating unused items and purchasing reusable supplies and materials; reprocessing devices, donating expired items, and recycling (in that order) are preferred upstream waste reduction strategies which can reduce the amount of downstream waste going into incinerators and landfills.
Hospitals will be looking for help with infrastructure and community vulnerability assessments and increasing onsite and offsite renewable energy sources.
Physicians, clinicians, and the public are receptive to education on climate and health impacts, which is a good thing because it's all about healing the planet now.
What three things do you never leave the house without (besides wallet/purse, keys, cell phone)?
A sun hat, water bottle, garden/hiking boots, and walking sticks are never not in my car. And I have a thing for lip balm. My friends make fun of me for how many tubes of it I carry in my purse, even taking a picture of the collection and posting it on Facebook. 
What's your favorite activity?
Camping and backpacking. More than anything, I love getting into the remote, quiet splendor of the Colorado backcountry.
What meal do you enjoy to celebrate a special occasion/accomplishment?
Sushi, by far and away. The combination of flavors, textures, temperatures, and sensations in one bite makes my eyes roll into the back of my head – just nirvana.
Join Practice Greenhealth
Practice Greenhealth is the health care sector's go-to source for information, tools, data, resources, and expert technical support on sustainability initiatives that help hospitals and health systems meet their health, financial, and community goals.