May 26: The health care sector joins the Race to Zero campaign
Published: 05/20/2021 - 10:16
Body
On May 26, Health Care Without Harm, in collaboration with the UN's Climate Champions, will launch the Race to Zero campaign for health care, showcasing institutions from six continents that have joined the Race to Zero. 
These hospitals and health systems, which collectively represent the interests of over 3,000 health care facilities, have committed to decarbonizing and achieving net zero by 2050. In doing so, they are stepping up as global leaders in the transformation to climate-smart health care.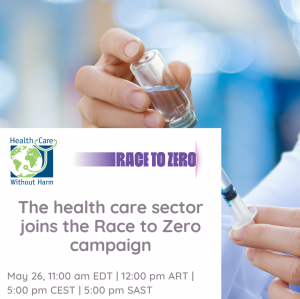 The session will take place on May 26, 3 PM UTC (check the time in your time zone here).
Backed by the United Nations Framework Convention on Climate Change (UNFCCC), Race to Zero is the largest global coalition of credible net zero commitments, rallying leadership and support from actors across sectors for a healthy, resilient, zero carbon recovery for people and the planet. The campaign unites and mobilizes these stakeholders to meet the Paris Agreement goals and sends a resounding message to national governments that non-state actors are committed to shifting to a decarbonized economy.
We'll hear from featured speakers including:
Gonzalo Muñoz, UN High Level Climate Champion, COP25
Diarmid Campbell-Lendrum, Head, Climate Change Unit, World Health Organization
Sonia Roschnik, International climate policy director, Health Care Without Harm
Race to Zero health care signatories spanning six continents
Simultaneous Spanish translation will be available during the session.
Join us for this exciting event where speakers will address the importance of health care climate leadership, how the road to recovery starts with transformative climate solutions, and celebrate health care institutions around the world leading the Race to zero emissions health care.
When: May 26, 11:00 am EDT | 12:00 pm ART | 5:00 pm CEST | 5:00 pm SAST (check the time in your time zone here)
Duration: 1 hour
Join Practice Greenhealth
Practice Greenhealth is the health care sector's go-to source for information, tools, data, resources, and expert technical support on sustainability initiatives that help hospitals and health systems meet their health, financial, and community goals.