Health care industry must adopt 'circular mindset'
Published: 12/01/2020 - 17:10
Feature Image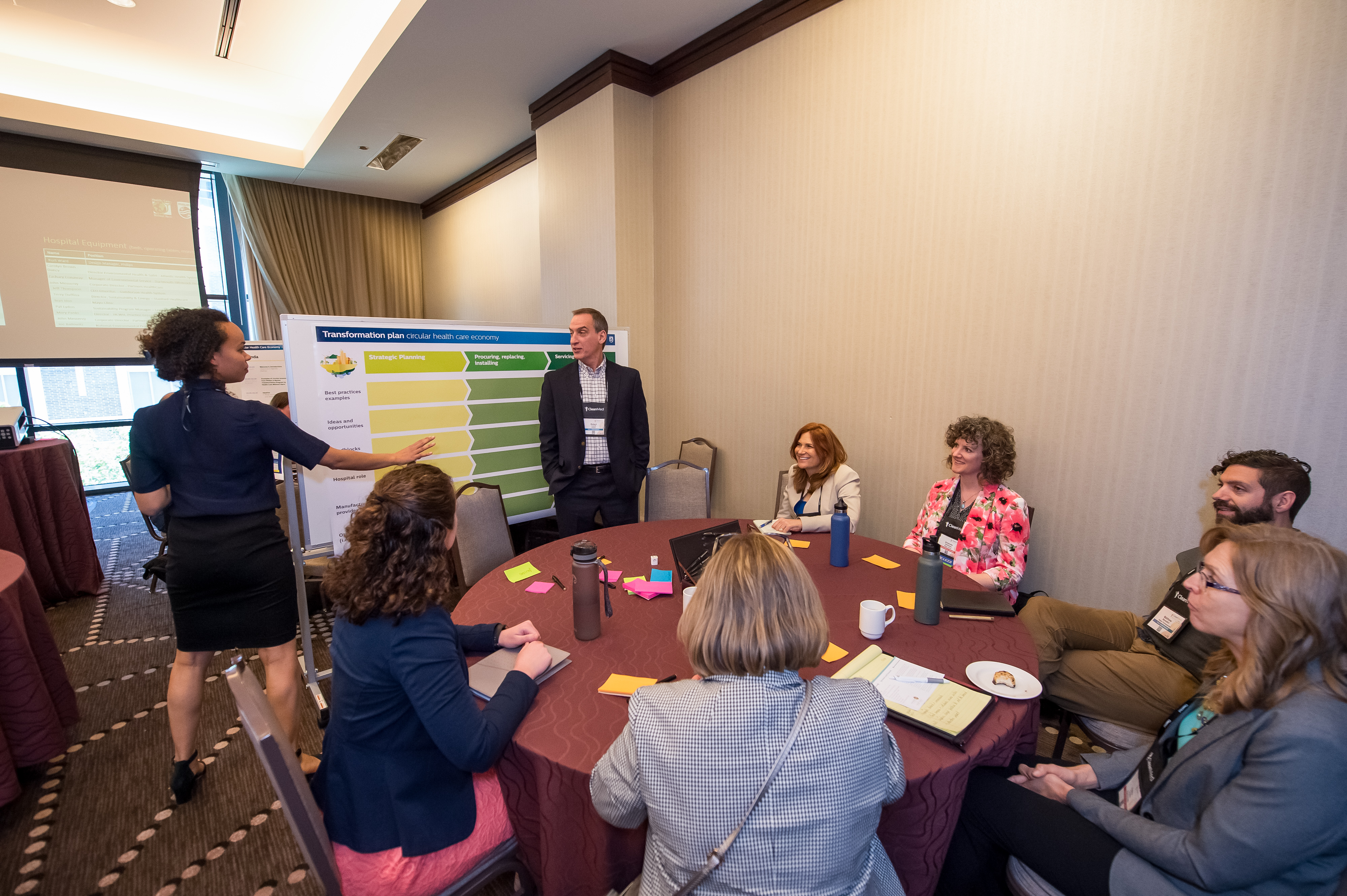 Body
The circular economy model is a new way of looking at the relationships among markets, customers, and natural resources. This concept means moving away from the traditional "take-make dispose" economic model to one that is regenerative by design. The goal is to retain as much value as possible from resources, products, and materials and create a system that allows for long lifespans, optimal reuse, refurbishment, remanufacturing, and recycling. 
Research shows investing in a circular economy has a $4.5 trillion business opportunity. This economic model holds the potential to build a more resilient global economy and support health systems and their communities. 
"I find [this] collaboration energizing to my work. Good ideas from good people."  

– Practice Greenhealth circular economy workshop participant
The more than 1,100 hospitals and health systems within the Practice Greenhealth network are already working to mitigate their direct environmental and public health footprints. Moving toward a circular economy could reduce waste production and risks related to resource supply and price volatility within the health care sector. While such an approach is key in preparing us for a sustainable future, it's also a potential solution to the supply chain shortages we face in the midst of a public health crisis.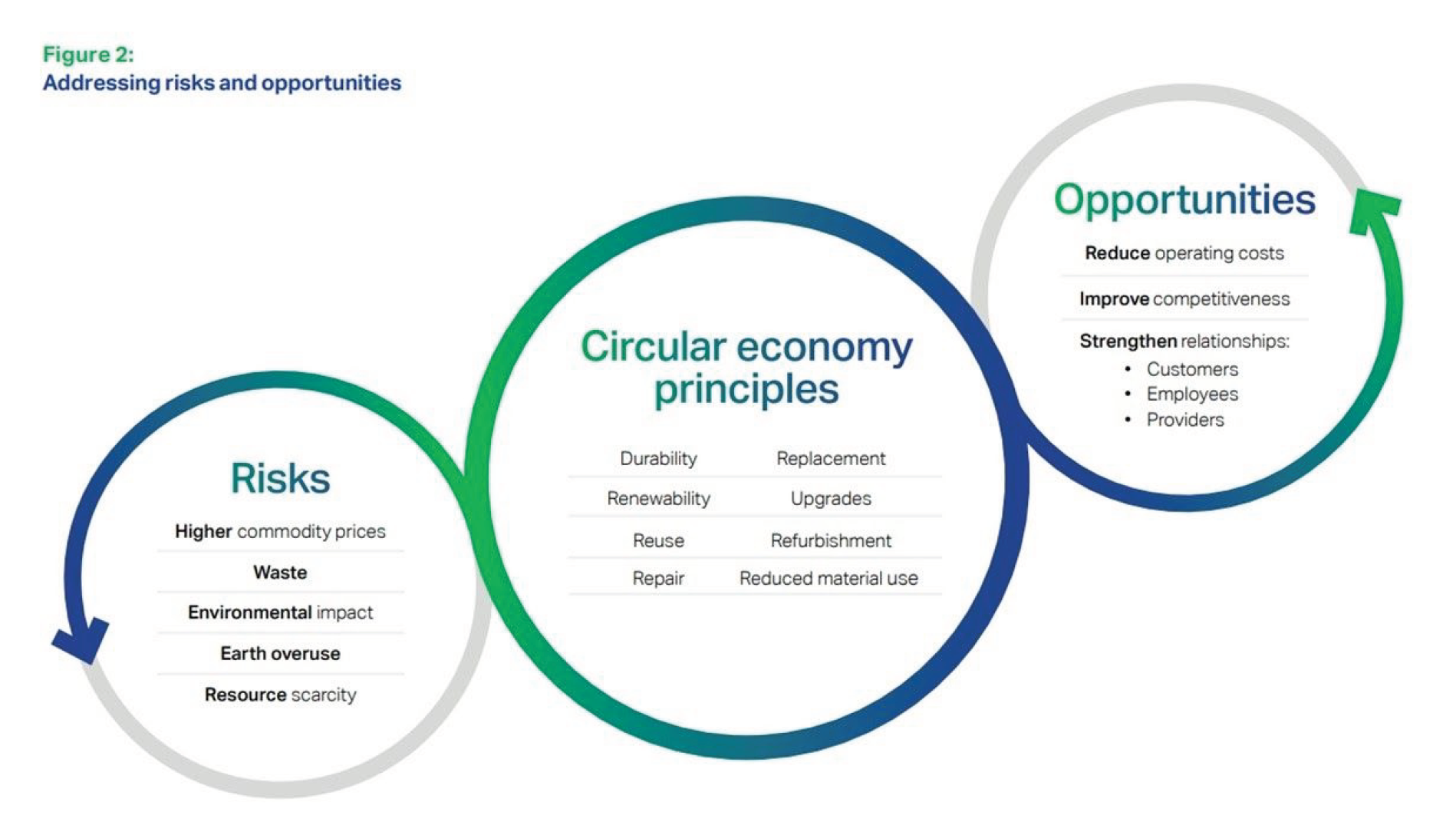 Source: World Business Council for Sustainable Development
This is why Practice Greenhealth has convened with hospital stakeholders, health care experts, and business partners to learn about circular principles, identify best practices, and commit to embedding circular thinking within their business practices.  
"My motivation is our ability to make real change in the industry. Thanks to the vendors for sticking with it!"

– Circular economy workshop hospital participant 
Leading companies who are already taking on the 'circular mindset' are focusing on how they can reduce waste from the start. These companies are asking themselves questions about how they can extend the life of their products and create business models that are enhanced by reuse, repair, replacement, upgrades, and refurbishment. 
By applying circular economy principles, companies are seeing an increase in resource productivity and a decrease in natural resource consumption. Some businesses, like Philips Healthcare, have even gone as far as making commitments to the circular economy model, pushing the company to collaborate with customers, non-governmental organizations, like Practice Greenhealth, and other key stakeholders, like the Ellen MacArthur Foundation. 
Practice Greenhealth predicts more industry partners will move toward extending the life of their products and offering solutions that are based on a service or subscription model. Industry partners might also employ a buyback model where the company collects a product when the customer is done with it to be refurbished and resold. 
What if hospitals were like Thomas Rau, an architect who realized it was in his best interest to buy light as a service? Or if hospitals never owned their furniture? Hospitals must learn more about the circular economy model and be ready to collaborate with their valued partners to accelerate society toward a sustainable future. 
Join Practice Greenhealth
Practice Greenhealth is the health care sector's go-to source for information, tools, data, resources, and expert technical support on sustainability initiatives that help hospitals and health systems meet their health, financial, and community goals.