Environmental Sustainability and the Triple Aim
Published: 11/01/2018 - 16:15
Feature Image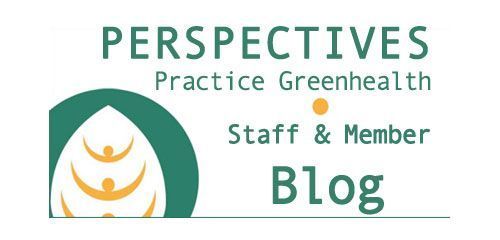 Body
Blog by Blair Sadler, Esq., Senior Fellow, Institute for Healthcare Improvement
Now is the time to make environmental sustainability part of your quality improvement work.
Years ago when I was a hospital CEO, I didn't have sustainability on my radar screen. I wasn't aware of the significant impact that the health care sector has on the environment – and on quality care. I didn't consider the amount of waste, energy and water that hospitals used – that chemicals of concern are found in medical products and furniture – that the food system is one of the biggest contributors to global greenhouse gas emissions. Now I get it. I see that we can't have healthy people on a sick planet. Now I understand that an investment in the planet is an investment in staff, in the building infrastructure and in the communities we serve. I now see it as demonstrating health care's leadership in wellness, prevention and fiscal responsibility. Moving from the single aim of better patient care to the triple aim of better care, better population health, and lower costs, sustainability is key.

The Healthier Hospitals Initiative is driving change in the sector and they took lessons from the Institute for Health Care Improvement. They modeled their initiative after the success of the 100,000 lives campaign. They are using data to capture environmental improvements in health care. They are measuring the impact of Engaged Leadership, Healthy Food, Lean Energy, Less Waste, Safer Chemicals and Smarter Purchasing. But they need us too. They need the quality community to take on sustainability as a quality imperative. They need us at the table. Why? Because, like any other successful initiative, it requires team work, data, engaged leadership and momentum – and that's what what the quality movement is all about. And no one gets it better than us. Environmental Sustainability is a quality improvement process – one program at a time.
Now is the time to make environmental sustainability part of your quality improvement work – does your facility have a green team or a sustainability lead? Get together and see how quality and sustainability teams can link up for greater value. Pioneering health systems are implementing exciting new innovations to help achieve their triple aim. They are improving environmental performance, reducing costs and engaging staff and communities through conserving energy, reducing waste, and purchasing environmentally preferable supplies and healthier foods.
Join me and my colleagues, Don Berwick, MD, MPP, President Emeritus and Senior Fellow, Institute for Healthcare Improvement (IHI), Jeffrey Thompson, MD, CEO, Gundersen Health System, Gary Cohen, President, HCWH, and Robin Guenther, Principal, Perkins+Will at the National Forum on Quality Improvement in Health Care for an important panel discussion - Workshop C25 | Tuesday, December 9 from 1:30 p.m. to 2:45 p.m. If anyone in your organization is planning to attend, please bring this to their attention and urge them to register before seats are gone.
Environmental sustainability and the triple aim means that you can save money and do what you are really there do do—take care of patients. It's a low-cost, high-impact activity and everybody wins. The timing couldn't be better to take this to the mainstream. And with over 1,000 hospitals enrolled in the Healthier Hospitals Initiative, the momentum is there – but the quality community can take it to the next level. Thank you for making healthier environments a quality imperative. Learn more at www.healthierhospitals.org.
Learn more about IHI National Forum on Quality Improvement in Health Care
Join Practice Greenhealth
Practice Greenhealth is the health care sector's go-to source for information, tools, data, resources, and expert technical support on sustainability initiatives that help hospitals and health systems meet their health, financial, and community goals.