Educating clinicians on health impacts of climate change
Published: 11/01/2018 - 16:15
Feature Image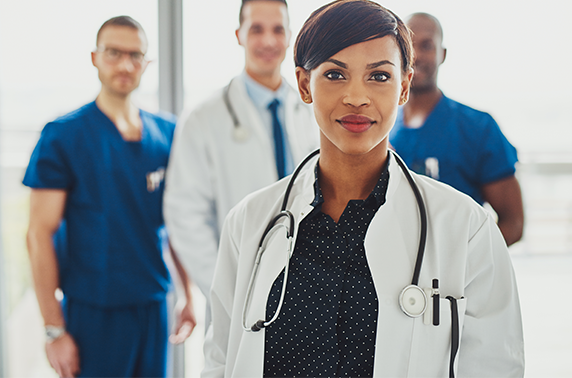 Body
By Sarah Spengeman, Ph.D., Health Care Without Harm Climate and Health program associate director
Have you thought to yourself, "How can my hospital or system step up its climate leadership?" If so, Health Care Without Harm has plenty of ideas for you, including a great example from Inova. Practice Greenhealth member Inova Health System in Northern Virginia recently worked with Virginia Clinicians for Climate Action (VCCA) to host a half-day conference for clinicians on the health impacts of climate change.
"Our changing climate presents an opportunity for clinicians to leverage their expertise to protect human health," said Christina Quint, Inova sustainability analyst. "Facilitating this conversation at the VCCA conference is a natural extension of Inova's commitment to ensuring the health of the communities we serve."
Inova provided the venue and refreshments and worked with Samantha Ahdoot, MD, a pediatrician and VCCA founder, to arrange expert speakers on topics of significance to clinicians.
"Many doctors in Virginia today recognize that the changing climate is influencing the health of their patients. They have received little education on these impacts, however, and often lack foundational understanding of the intersections between climate and health, for example: how warming water temperatures are affecting regional shellfish infections or how earlier springs are impacting onset of the allergy season locally," Ahdoot explained. "This data is clinically useful, and is easier for communities to understand."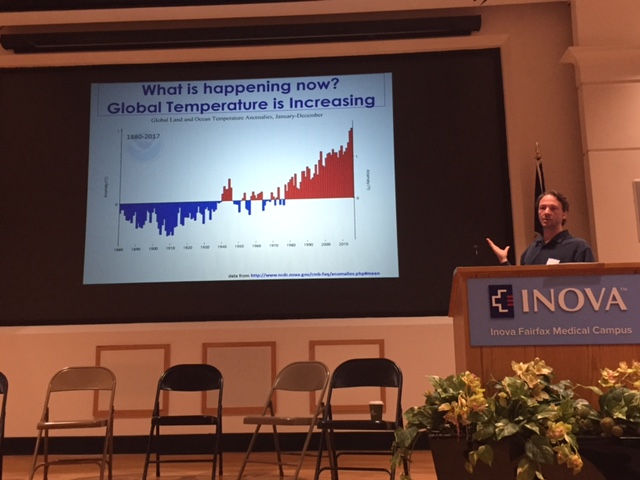 More than 50 attendees learned the basics of climate science along with how global warming is impacting their patients. Experts spoke about how waterborne and vector-borne diseases are on the increase due to the changing environment and alerted clinicians to the symptoms and identifiers. A representative from the American Lung Association explained the relationship between air quality and climate change, and a researcher from the U.S. Department of Agriculture also discussed the health implications of a changing food system. Clinicians were also given tools and resources to engage in climate advocacy, including guidance about how to talk about climate change in their communities.
"I found the lectures were very informative for both patients and clinicians. Many physicians do not realize that climate change is affecting our patients. Dr. Cash did an excellent presentation on the natural history of climate change and a summary of the last 30 years. Dr. Ziska discussed the impacts of climate change on our food and water supply, medications and the impact on our plants," said Nila Rafiq, MD, an Inova physician who attended. "The discussions between the audience and speakers were engaging and empowering."
The presentations are available online.
"I encourage everyone to consider some type of climate and health event," said Chip Goyette, Inova's sustainability director. "It could be something as simple as a webinar directed at clinicians or even a brown bag lunch discussion, moderated by your sustainability team. The hope is that these discussions lead to not just new climate action strategies but a renewed interest in our sustainability programs as a whole."
 As we head into what is sure to be another record hot summer, we hope you will be inspired by Inova's leadership and consider hosting your own event to educate clinicians on the health impacts of climate change. The Climate and Health program at Health Care Without Harm and the Practice Greenhealth Member Engagement Team are here to support you, and can help you identify local experts and speakers, plan the logistics, and recruit participants. We look forward to working with you to ensure your clinicians and patients are prepared for the new challenges posed by a changing climate. For more information, contact Sarah Spengeman.
Join Practice Greenhealth
Practice Greenhealth is the health care sector's go-to source for information, tools, data, resources, and expert technical support on sustainability initiatives that help hospitals and health systems meet their health, financial, and community goals.