Destination CleanMed Series: Climate-smart health system strategies
March 17, 2022 12:00-1:30 PM ET
Published: 02/07/2022 - 15:32
Feature Image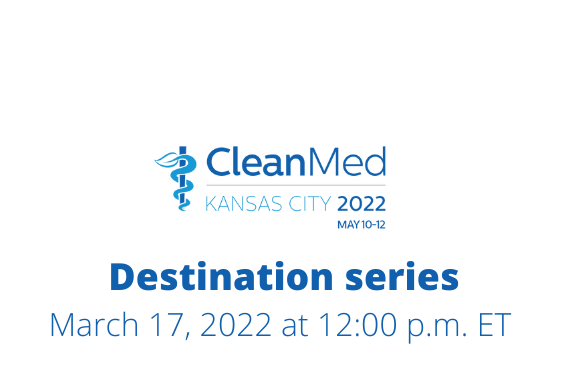 Body
The Destination CleanMed series features discussions building momentum that will culminate in Kansas City May 10-12 for CleanMed 2022. Register now and invite your colleagues, collaborators, and partners to this free event.
Join us March 17, 2022 12:00-1:30 p.m. ET for a session on Climate-smart health system strategies.
In 2020 and 2021, health systems across the country were challenged to care for their communities in the face of record-breaking heat waves, floods, hurricanes, and wildfires brought on by the climate crisis, alongside the coronavirus pandemic. At the same time, health care's energy- and resource-intensive operations contribute to climate change. Learn how leading health systems are implementing climate-smart strategies to reduce their carbon footprint and prepare their facilities and communities for climate impacts. Members of the U.S. Health Care Climate Council will share their experience setting and implementing net-zero goals, electrifying their facilities, and investing in community climate resilience.
Join Practice Greenhealth
Practice Greenhealth is the health care sector's go-to source for information, tools, data, resources, and expert technical support on sustainability initiatives that help hospitals and health systems meet their health, financial, and community goals.