Cook up climate action at CleanMed
Published: 04/01/2022 - 16:12
Feature Image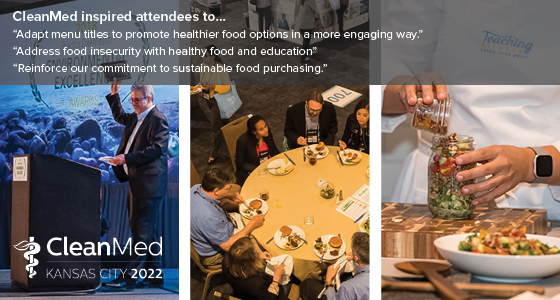 Body
Food service is a powerful but often untapped lever with the potential to improve patient and community health, address diet-related disease, reduce carbon footprints, and build community wealth and resilience. At CleanMed 2022 May 10-12 in Kansas City, hear from experts on how to bring equity and diversity principles into food purchasing and how plant-forward menus and new food waste recovery strategies can help hospitals meet ambitious climate targets.
Attendees of CleanMed will discover the power of food to:
Integrate equity & community into food purchasing
Learn how to integrate racial equity and vendor diversity goals into hospital food service purchasing to build community wealth and resilience.

Cook up climate action
Learn the secret recipe to reduce climate impact through delicious food in health care.

Prescribe health
Learn how hospitals and communities are using food-as-medicine strategies to improve health outcomes and strengthen their food systems.
In addition, attendees will be the first to find out who is America's next top hospital chef when we reveal which of our 5 finalists is the 2021 Health Care Culinary Contest winner and get a chance to taste the winning recipe.
Join Practice Greenhealth
Practice Greenhealth is the health care sector's go-to source for information, tools, data, resources, and expert technical support on sustainability initiatives that help hospitals and health systems meet their health, financial, and community goals.