Blue Wrap and the Circular Economy
Published: 11/01/2018 - 16:15
Feature Image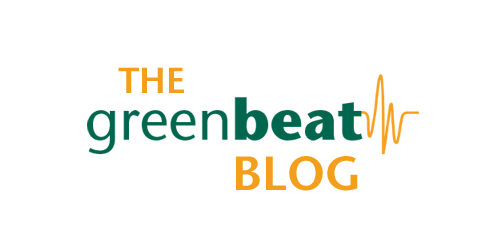 Body
Christopher Bodkin, Data Coordinator Sector Performance and Recognition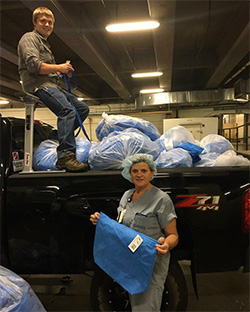 Waste from the health care sector is significant:
255 Million lbs. of blue wrap is thrown away annually.
Businesses are turning blue wrap into products for hospitals.
Hospitals are creating blue wrap recycling programs.
Health care waste generation can be turned around to develop products promote environmental and economic health.
Historically, business success has been measured by making money, by boundless growth through linear consumption of resources and exploitation of environmental capital. Times are different and businesses need to consider not only financial success but also environmental sustainability. Health care must be multi beneficial and provide services and products that benefit society. There is acknowledgment of the connection between human health and healthy economic communities. Health care waste generation offers an example how the times are changing.
Fifteen percent of hospital waste is recyclable plastic, equating to 2.1 million lbs. generated daily or 766.5 million lbs. of plastic waste annually. Blue wrap represents 255 million lbs. of this. Health care facilities become engines for the circular economies by realizing the value of their waste and by working with third-party organizations to segregate and repurpose their waste efficiently.  A blue wrap recycling program can save MSW and RMW hauling costs, while purchasing products made from their blue wrap. Hospitals must work with third-party organizations and waste haulers to set up functional blue wrap recycling programs.
Here's how.
OR and Environmental Services (EVS) Staff Buy In: Blue wrap recycling programs begin with engaged nurses and OR staff.  Educate staff on the harmful effects of sending blue wrap into landfills. Inspire them to take steps to segregate pre-incision blue wrap. Work with the EVS staff to pull this material and transport it to either the loading dock or a storage room. Materials are picked up by a third-party or waste hauler. This is crucial to having a successful blue wrap recycling program.
Safety and Staff Education: Safety is paramount when dealing with any waste management plan. Third-party organizations offer free OR staff trainings to ensure that only clean pre-incision blue wrap is being taken from the facility. This training ensures the safety of the hospital staff and of the waste haulers. Workers at all points of transport inspect the materials for contamination.
Working with Third-party Organizations or Waste Haulers: There are options for blue wrap recycling and repurposing. Hospitals can find organizations for their pre-incision blue wrap that will pick up and transport blue wrap for low to no cost. Some third-party organizations work with current waste haulers to purchase blue wrap and turn it into sustainable products like personal care items to sell back to the hospital creating a closed loop economy.
Downstream Outlets: Aligning a blue wrap recycling program with entrepreneurial businesses can save money when purchasing environmentally preferable products, while promoting local economic strength. Entrepreneurs have created local sewing operations for underemployed populations to sew blue wrap tote bags. In the future, companies will green the supply chain by making products that are currently made from harmful plastics out of healthier polypropylene. The pelletized blue wrap can be used for technologies like 3-D printing used to make prosthetic limbs and homeless housing.
When blue wrap leaves a hospital it can begin its circular journey where it is turned into products that the hospital buys back, and those products promote environmental and economic health.
Read more about Greening the Operating Room.
Join Practice Greenhealth
Practice Greenhealth is the health care sector's go-to source for information, tools, data, resources, and expert technical support on sustainability initiatives that help hospitals and health systems meet their health, financial, and community goals.