Association of Climate Change Officers and Practice Greenhealth Announce Partnership
Published: 11/01/2018 - 16:15
Feature Image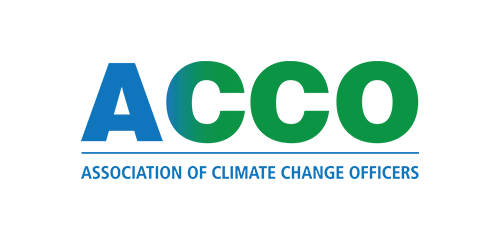 Body
Organizations To Align Efforts on Education & Training of Healthcare System Professionals
WASHINGTON, DC – April 26, 2017 – The Association of Climate Change Officers (ACCO) and Practice Greenhealth, organizations who have a common interest in advancing climate preparedness and sustainability in the healthcare sector, announced a partnership today that will advance their shared missions — to heighten the knowledge, skills, and professional growth of healthcare system professionals in the public and private sector.
Effective today, ACCO is providing a suite of climate science and greenhouse gas (GHG) management training modules available to all Practice Greenhealth members. Additionally, ACCO and Practice Greenhealth will begin to examine opportunities to align their efforts related to developing and disseminating new training resources, facilitating peer collaboration, and advancing important resources and tools. 
The partnership builds upon a history of collaboration between the two organizations.  ACCO and Practice Greenhealth will look to expand information sharing and the development of best practices so healthcare system practitioners will have access to valuable information and resources they need to heighten preparedness and reduce the footprint of their organizations.
"As a convening body and professional development organization, ACCO is joining forces with partner organizations to dynamically scale up important resources being made available to climate change and sustainability practitioners and to tailor training to specific sectors," says Daniel Kreeger, ACCO's co-founder and executive director. "We're excited to unveil this important partnership with Practice Greenhealth and look forward to working collaboratively with their leadership to advance our critically important missions."
This partnership represents a significant opportunity for the two communities of practice to work toward helping all healthcare organizations and systems to be more sustainable by building enterprise capacity and empowering their leadership to respond to climate change.
"Our member hospitals and health systems are ready to gain a deeper understanding of their carbon footprint, and ACCO is a great partner that is willing to share existing education and resources, as well as to explore other collaborative education opportunities," says Sarah Manwell, Chief Membership Officer at Practice Greenhealth.
To learn more about the joint membership offering, please visit www.ACCOonline.org/greenhealth-trial.
About the Association of Climate Change Officers
The Association of Climate Change Officers (ACCO) is a 501(c)(3) non-profit membership organization for executives and officials worldwide in industry, government, academia and the non-profit community. ACCO's mission is to define, develop and support the functions, resources and communities necessary for effective organizational leadership in addressing climate-related risks and opportunities. ACCO administers the Certified Climate Change Professional® (CC-P®) and Certified Climate Change Officer® (CC-O®) credentialing programs. For more information about ACCO, please visit www.accoonline.org.
About Practice Greenhealth
Practice Greenhealth is the leading nonprofit membership and network organization for sustainable health care, delivering environmental solutions to more than 1,300 members throughout the United States. Founded on the principles of positive environmental stewardship within the health care community, Practice Greenhealth lends its expertise to organizations looking to create safer, greener workplaces as well as improve the health of their patients, staff, and communities. To learn more about Practice Greenhealth, visit: www.practicegreenhealth.org.
For more information, please contact:
Daniel Kreeger / Benn Grover
202-496-7390 / 888-461-0112
dkreeger@ACCOOnline.org / bgrover@hcwh.org
Join Practice Greenhealth
Practice Greenhealth is the health care sector's go-to source for information, tools, data, resources, and expert technical support on sustainability initiatives that help hospitals and health systems meet their health, financial, and community goals.